Meal Quotes (12 quotes)
A human being should be able to change a diaper, plan an invasion, butcher a hog, conn a ship, design a building, write a sonnet, balance accounts, build a wall, set a bone, comfort the dying, take orders, give orders, cooperate, act alone, solve equations, analyze a new problem, pitch manure, program a computer, cook a tasty meal, fight efficiently, die gallantly. Specialization is for insects.

Histology is an exotic meal, but can be as repulsive as a dose of medicine for students who are obliged to study it, and little loved by doctors who have finished their study of it all too hastily. Taken compulsorily in large doses it is impossible to digest, but after repeated tastings in small draughts it becomes completely agreeable and even addictive. Whoever possesses a refined sensitivity for artistic manifestations will appreciate that, in the science of histology, there exists an inherent focus of aesthetic emotions.

How did I discover saccharin? Well, it was partly by accident and partly by study. I had worked a long time on the compound radicals and substitution products of coal tar... One evening I was so interested in my laboratory that I forgot about my supper till quite late, and then rushed off for a meal without stopping to wash my hands. I sat down, broke a piece of bread, and put it to my lips. It tasted unspeakably sweet. I did not ask why it was so, probably because I thought it was some cake or sweetmeat. I rinsed my mouth with water, and dried my moustache with my napkin, when, to my surprise the napkin tasted sweeter than the bread. Then I was puzzled. I again raised my goblet, and, as fortune would have it, applied my mouth where my fingers had touched it before. The water seemed syrup. It flashed on me that I was the cause of the singular universal sweetness, and I accordingly tasted the end of my thumb, and found it surpassed any confectionery I had ever eaten. I saw the whole thing at once. I had discovered some coal tar substance which out-sugared sugar. I dropped my dinner, and ran back to the laboratory. There, in my excitement, I tasted the contents of every beaker and evaporating dish on the table.

I've been very involved in science literacy because it's critically important in our world today. … As a public, we're asked to vote on issues, we're asked to accept explanations, we're asked to figure out what to do with our own health care, and you can't do that unless you have some level of science literacy. Science literacy isn't about figuring out how to solve equations like E=MC². Rather, it's about being able to read an article in the newspaper about the environment, about health care and figuring out how to vote on it. It's about being able to prepare nutritious meals. It's about being able to think your way through the day.

Indigestion is the failure to adjust a square meal to a round stomach.

Some have supposed that the mosquito is of a devout turn, and never will partake of a meal without first saying grace. The devotions of some men are but a preface to blood-sucking.

Theorems are not to mathematics what successful courses are to a meal.

To lengthen thy Life, lessen thy Meals.

Use now and then a little Exercise a quarter of an Hour before Meals, as to swing a Weight, or swing your Arms about with a small Weight in each Hand; to leap, or the like, for that stirs the Muscles of the Breast.

We are not here to abuse and exploit other creatures. We are here to live and help live. Every meal is part of the journey.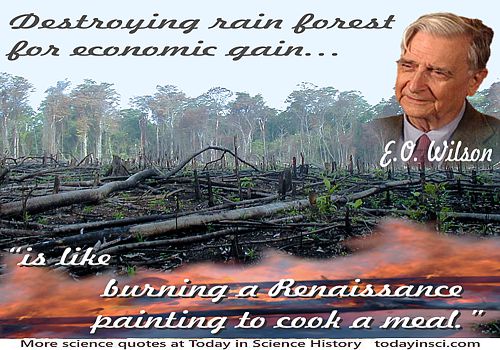 Lacandon jungle burned for agriculture in Chiapas, Mexico (by Jami Dwyer)
(source)
[Destroying rain forest for economic gain] is like burning a Renaissance painting to cook a meal.

[T]here are some common animal behaviors that seem to favor the development of intelligence, behaviors that might lead to brainy beasts on many worlds. Social interaction is one of them. If you're an animal that hangs out with others, then there's clearly an advantage in being smart enough to work out the intentions of the guy sitting next to you (before he takes your mate or your meal). And if you're clever enough to outwit the other members of your social circle, you'll probably have enhanced opportunity to breed..., thus passing on your superior intelligence. ... Nature—whether on our planet or some alien world—will stumble into increased IQ sooner or later.