Cook Quotes (13 quotes)
Amoeba has her picture in the book,
Proud Protozoon!—Yet beware of pride,
All she can do is fatten and divide;
She cannot even read, or sew, or cook…
The Worm can crawl
But has no eyes to look.
The Jelly-fish can swim
But lacks a bride.

Cookery is become an art, a noble science; cooks are gentlemen.

Every creature has its own food, and an appropriate alchemist with the task of dividing it ... The alchemist takes the food and changes it into a tincture which he sends through the body to become blood and flesh. This alchemist dwells in the stomach where he cooks and works. The man eats a piece of meat, in which is both bad and good. When the meat reaches the stomach, there is the alchemist who divides it. What does not belong to health he casts away to a special place, and sends the good wherever it is needed. That is the Creator's decree... That is the virtue and power of the alchemist in man.

I am a woman who came from the cotton fields of the South. From there I was promoted to the washtub. From there I was promoted to the cook kitchen. And from there I promoted myself into the business of manufacturing hair goods and preparations….I have built my own factory on my own ground.

I think all this superstring stuff is crazy and is in the wrong direction. I don't like that they're not calculating anything. I don't like that they don't check their ideas. I don't like that for anything that disagrees with an experiment, they cook up an explanation… It doesn't look right.

If these d'Hérelle bodies were really genes, fundamentally like our chromosome genes, they would give us an utterly new angle from which to attack the gene problem. They are filterable, to some extent isolable, can be handled in test-tubes, and their properties, as shown by their effects on the bacteria, can then be studied after treatment. It would be very rash to call these bodies genes, and yet at present we must confess that there is no distinction known between the genes and them. Hence we can not categorically deny that perhaps we may be able to grind genes in a mortar and cook them in a beaker after all. Must we geneticists become bacteriologists, physiological chemists and physicists, simultaneously with being zoologists and botanists? Let us hope so.

If you are surprised at the number of our maladies, count our cooks.

Little Birds are writing
Interesting books.
To be read by cooks:
Read, I say, not roasted—
Letterpress, when toasted,
Loses its good looks.

Once we thought, journalists and readers alike, that if we put together enough "facts" and gave them a fast stir, we would come up with something that, at least by the standards of short-order cooks, could be called the truth.

One of the great triumphs of 20th Century astrophysics, was tracing the elements of your body, of all the elements around us, to the actions of stars—that crucible in the centers of stars that cooked basic elements into heavier elements, light elements into heavy elements. (I say "cooked"—I mean thermonuclear fusion.) The heat brings them together, gets you bigger atoms, that then do other interesting chemical things, fleshing out the contents of the Periodic Table.

The mighty steam-engine has its germ in the simple boiler in which the peasant prepares his food. The huge ship is but the expansion of the floating leaf freighted with its cargo of atmospheric dust; and the flying balloon is but the infant's soap-bubble lightly laden and overgrown. But the Telescope, even in its most elementary form, embodies a novel and gigantic idea, without an analogue in nature, and without a prototype in experience

We divorced ourselves from the materials of the earth, the rock, the wood, the iron ore; we looked to new materials which were cooked in vats, long complex derivatives of urine which we called plastic. They had no odor of the living, ... their touch was alien to nature. ... [They proliferated] like the matastases of cancer cells.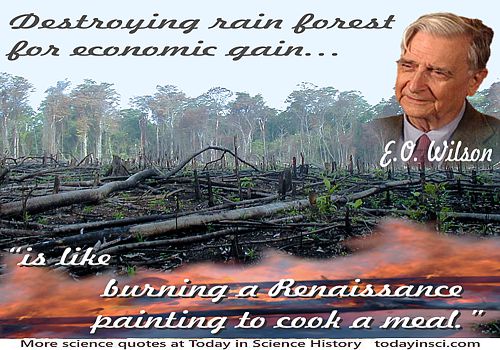 Lacandon jungle burned for agriculture in Chiapas, Mexico (by Jami Dwyer)
(source)
[Destroying rain forest for economic gain] is like burning a Renaissance painting to cook a meal.