(source)

Sir Julian Huxley

(22 Jun 1887 - 14 Feb 1975)




Science Quotes by Sir Julian Huxley
(12 quotes)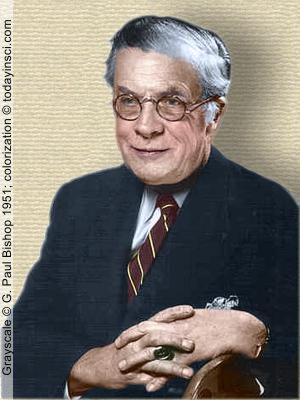 Amoeba has her picture in the book,
Proud Protozoon!—Yet beware of pride,
All she can do is fatten and divide;
She cannot even read, or sew, or cook…
The Worm can crawl
But has no eyes to look.
The Jelly-fish can swim
But lacks a bride.

— Sir Julian Huxley

By death the moon was gathered in Long ago, ah long ago;
Yet still the silver corpse must spin
And with another's light must glow.
Her frozen mountains must forget
Their primal hot volcanic breath,
Doomed to revolve for ages yet,
Void amphitheatres of death.
And all about the cosmic sky,
The black that lies beyond our blue,
Dead stars innumerable lie,
And stars of red and angry hue
Not dead but doomed to die.

— Sir Julian Huxley

Evolution: At the Mind's Cinema
I turn the handle and the story starts:
Reel after reel is all astronomy,
Till life, enkindled in a niche of sky,
Leaps on the stage to play a million parts.
Life leaves the slime and through all ocean darts;
She conquers earth, and raises wings to fly;
Then spirit blooms, and learns how not to die,-
Nesting beyond the grave in others' hearts.
I turn the handle: other men like me
Have made the film: and now I sit and look
In quiet, privileged like Divinity
To read the roaring world as in a book.
If this thy past, where shall they future climb,
O Spirit, built of Elements and Time?

— Sir Julian Huxley

Evolution: The Modern Synthesis.
Book title

— Sir Julian Huxley

Evolution… is the most powerful and the most comprehensive idea that has ever arisen on Earth.

— Sir Julian Huxley

Operationally, God is beginning to resemble not a ruler, but the last fading smile of a cosmic Cheshire Cat.

— Sir Julian Huxley

The entire cosmos is made out of one and the same world-stuff, operated by the same energy as we ourselves. "Mind" and "matter" appears as two aspects of our unitary mind-bodies. There is no separate supernatural realm: all phenomena are part of one natural process of evolution. There is no basic cleavage between science and religion; they are both organs of evolving humanity.

— Sir Julian Huxley

The popular and scientific views of "race" no longer coincide. The word "race," as applied scientifically to human groupings, has lost any sharpness of meaning. To-day it is hardly definable in scientific terms, except as an abstract concept which may, under certain conditions, very different from those now prevalent, have been realized approximately in the past and might, under certain other but equally different conditions, be realized in the distant future.
Co-author with British anthropologist Alfred Cort Haddon (1855-1940).

— Sir Julian Huxley

The proof given by Wright, that non-adaptive differentiation will occur in small populations owing to "drift," or the chance fixation of some new mutation or recombination, is one of the most important results of mathematical analysis applied to the facts of neo-mendelism. It gives accident as well as adaptation a place in evolution, and at one stroke explains many facts which puzzled earlier selectionists, notably the much greater degree of divergence shown by island than mainland forms, by forms in isolated lakes than in continuous river-systems.

— Sir Julian Huxley

The scientific doctrine of progress is destined to replace not only the myth of progress, but all other myths of human earthly destiny. It will inevitably become one of the cornerstones of man's theology, or whatever may be the future substitute for theology, and the most important external support for human ethics.

— Sir Julian Huxley

To speculate without facts is to attempt to enter a house of which one has not the key, by wandering aimlessly round and round, searching the walls and now and then peeping through the windows. Facts are the key.

— Sir Julian Huxley

Will our Philosophy to later Life
Seem but a crudeness of the planet's youth,
Our Wisdom but a parasite of Truth?

— Sir Julian Huxley

See also:
22 Jun - short biography, births, deaths and events on date of Huxley's birth.
Julian Huxley - context of quote "To speculate without facts is to attempt to enter a house of which one has not the key" - Medium image (500 x 350 px)
Julian Huxley - context of quote "To speculate without facts is to attempt to enter a house of which one has not the key" - Large image (800 x 600 px)