Beaker Quotes (5 quotes)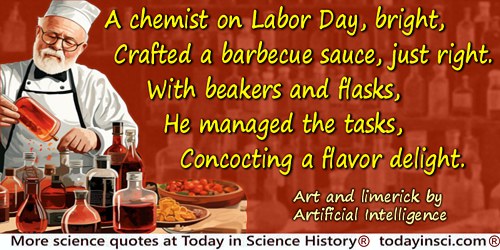 A chemist on Labor Day, bright,
Crafted a barbecue sauce, just right.
With beakers and flasks,
He managed the tasks,
Concocting a flavor delight.

Computer science is no more about computers than astronomy is about telescopes, biology is about microscopes or chemistry is about beakers and test tubes. Science is not about tools. It is about how we use them, and what we find out when we do.

How did I discover saccharin? Well, it was partly by accident and partly by study. I had worked a long time on the compound radicals and substitution products of coal tar... One evening I was so interested in my laboratory that I forgot about my supper till quite late, and then rushed off for a meal without stopping to wash my hands. I sat down, broke a piece of bread, and put it to my lips. It tasted unspeakably sweet. I did not ask why it was so, probably because I thought it was some cake or sweetmeat. I rinsed my mouth with water, and dried my moustache with my napkin, when, to my surprise the napkin tasted sweeter than the bread. Then I was puzzled. I again raised my goblet, and, as fortune would have it, applied my mouth where my fingers had touched it before. The water seemed syrup. It flashed on me that I was the cause of the singular universal sweetness, and I accordingly tasted the end of my thumb, and found it surpassed any confectionery I had ever eaten. I saw the whole thing at once. I had discovered some coal tar substance which out-sugared sugar. I dropped my dinner, and ran back to the laboratory. There, in my excitement, I tasted the contents of every beaker and evaporating dish on the table.

If these d'Hérelle bodies were really genes, fundamentally like our chromosome genes, they would give us an utterly new angle from which to attack the gene problem. They are filterable, to some extent isolable, can be handled in test-tubes, and their properties, as shown by their effects on the bacteria, can then be studied after treatment. It would be very rash to call these bodies genes, and yet at present we must confess that there is no distinction known between the genes and them. Hence we can not categorically deny that perhaps we may be able to grind genes in a mortar and cook them in a beaker after all. Must we geneticists become bacteriologists, physiological chemists and physicists, simultaneously with being zoologists and botanists? Let us hope so.

Science is, on the whole, an informal activity, a life of shirt sleeves and coffee served in beakers.