Defender Quotes (5 quotes)
Defenders of the short-sighted men who in their greed and selfishness will, if permitted, rob our country of half its charm by their reckless extermination of all useful and beautiful wild things sometimes seek to champion them by saying the "the game belongs to the people." So it does; and not merely to the people now alive, but to the unborn people. The "greatest good for the greatest number" applies to the number within the womb of time, compared to which those now alive form but an insignificant fraction. Our duty to the whole, including the unborn generations, bids us restrain an unprincipled present-day minority from wasting the heritage of these unborn generations. The movement for the conservation of wild life and the larger movement for the conservation of all our natural resources are essentially democratic in spirit, purpose, and method.

Science's defenders have identified five hallmark moves of pseudoscientists. They argue that the scientific consensus emerges from a conspiracy to suppress dissenting views. They produce fake experts, who have views contrary to established knowledge but do not actually have a credible scientific track record. They cherry-pick the data and papers that challenge the dominant view as a means of discrediting an entire field. They deploy false analogies and other logical fallacies. And they set impossible expectations of research: when scientists produce one level of certainty, the pseudoscientists insist they achieve another.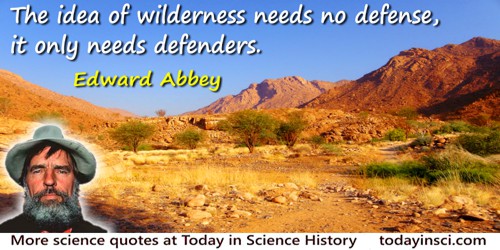 https://www.publicdomainpictures.net/en/view-image.php?image=46191&picture=rocky-desert-landscape
(source)
The idea of wilderness needs no defense, it only needs defenders.

The most heated defenders of a science, who cannot endure the slightest sneer at it, are commonly those who have not made very much progress in it and are secretly aware of this defect.

…it ought to be remembered that there is nothing more difficult to take in hand, more perilous to conduct, or more uncertain in its success, than to take the lead in the introduction of a new order of things. Because the innovator has for enemies all those who have done well under the old conditions, and lukewarm defenders in those who may do well under the new.