Declaration Quotes (10 quotes)
[The ancient monuments] were all dwarfs in size and pigmies in spirit beside this mighty Statue of Liberty, and its inspiring thought. Higher than the monument in Trafalgar Square which commemorates the victories of Nelson on the sea; higher than the Column Vendome, which perpetuates the triumphs of Napoleon on the land; higher than the towers of the Brooklyn Bridge, which exhibit the latest and greatest results of science, invention, and industrial progress, this structure rises toward the heavens to illustrate an idea ... which inspired the charter in the cabin of the Mayflower and the Declaration of Independence from the Continental Congress.

However absurd it may seem, I do in all seriousness hereby declare that I am animated mainly by philanthropic motives. I desire to do good to my fellow creatures, even to the Cui bonos.

Physicists often quote from T. H. White's epic novel The Once and Future King, where a society of ants declares, "Everything not forbidden is compulsory." In other words, if there isn't a basic principle of physics forbidding time travel, then time travel is necessarily a physical possibility. (The reason for this is the uncertainty principle. Unless something is forbidden, quantum effects and fluctuations will eventually make it possible if we wait long enough. Thus, unless there is a law forbidding it, it will eventually occur.)

Scientific discovery, or the formulation of scientific theory, starts in with the unvarnished and unembroidered evidence of the senses. It starts with simple observation—simple, unbiased, unprejudiced, naive, or innocent observation—and out of this sensory evidence, embodied in the form of simple propositions or declarations of fact, generalizations will grow up and take shape, almost as if some process of crystallization or condensation were taking place. Out of a disorderly array of facts, an orderly theory, an orderly general statement, will somehow emerge.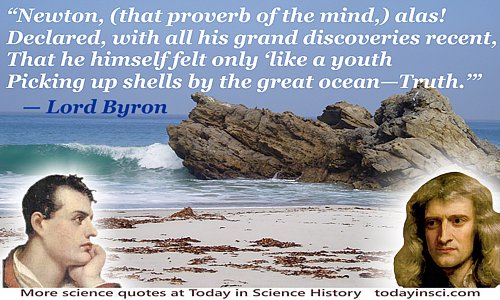 Background of ocean and rocky outcrop with kelp on sandy shore in foreground, at Channel Islands NMS, California. , Photo by Claire Fackler, NOAA
(source)
Socrates said, our only knowledge was
"To know that nothing could be known;" a pleasant
Science enough, which levels to an ass
Each Man of Wisdom, future, past, or present.
Newton, (that Proverb of the Mind,) alas!
Declared, with all his grand discoveries recent,
That he himself felt only "like a youth
Picking up shells by the great Ocean—Truth."

That the enthusiasm which characterizes youth should lift its parricide hands against freedom and science would be such a monstrous phenomenon as I cannot place among possible things in this age and country.
[Expressing confidence in the next generation to preserve the freedom of the human mind, and of the press, which grew out of America's Declaration of Independence.]

We hold these truths to be self-evident.
Franklin's edit to the assertion of religion in Thomas Jefferson's original wording, "We hold these truths to be sacred and undeniable" in a draft of the Declaration of Independence changes it instead into an assertion of rationality. The scientific mind of Franklin drew on the scientific determinism of Isaac Newton and the analytic empiricism of David Hume and Gottfried Leibniz. In what became known as "Hume's Fork" the latters' theory distinguished between synthetic truths that describe matters of fact, and analytic truths that are self-evident by virtue of reason and definition.

We live in an age of science and of abounding accumulation of material things. These did not create the Declaration. Our Declaration created them. … If we are to maintain the great heritage which has been bequeathed to us, we must be like-minded as the fathers who created it.

Who shall declare the time allotted to the human race, when the generations of the most insignificant insect also existed for unnumbered ages? Yet man is also to vanish in the ever-changing course of events. The earth is to be burnt up, and the elements are to melt with fervent heat—to be again reduced to chaos—possibly to be renovated and adorned for other races of beings. These stupendous changes may be but cycles in those great laws of the universe, where all is variable but the laws themselves and He who has ordained them.

With respect to those points, on which the declaration of Scripture is positive and decisive, as, for instance, in asserting the low antiquity of the human race; the evidence of all facts that have yet been established in Geology coincides with the records of Sacred History and Profane Tradition to confirm the conclusion that the existence of mankind can on no account be supposed to have taken its beginning before that time which is assigned to it in the Mosaic writings.