Stalk Quotes (6 quotes)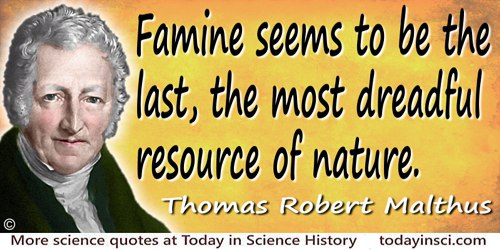 Famine seems to be the last, the most dreadful resource of nature. The power of population is so superior to the power in the earth to produce subsistence for man, that premature death must in some shape or other visit the human race. The vices of mankind are active and able ministers of depopulation. They are the precursors in the great army of destruction; and often finish the dreadful work themselves. But should they fail in this war of extermination, sickly seasons, epidemics, pestilence, and plague, advance in terrific array, and sweep off their thousands and ten thousands. Should success be still incomplete, gigantic inevitable famine stalks in the rear, and with one mighty blow, levels the population with the food of the world.

Infectious disease is one of the few genuine adventures left in the world. The dragons are all dead and the lance grows rusty in the chimney corner. ... About the only sporting proposition that remains unimpaired by the relentless domestication of a once free-living human species is the war against those ferocious little fellow creatures, which lurk in dark corners and stalk us in the bodies of rats, mice and all kinds of domestic animals; which fly and crawl with the insects, and waylay us in our food and drink and even in our love

It is said that God notes each sparrow that falls. And so He does … because the Sparrow is God. And when a cat stalks a sparrow both of them are God, carrying out God's thoughts.

Let us award a just, a brilliant homage to those rare men whom nature has endowed with the precious privilege of arranging a thousand isolated facts, of making seductive theories spring from them; but let us not forget to state, that the scythe of the reaper had cut the stalks before one had thought of uniting them into sheaves!

The seed is the fetus, in other words, a true plant with its parts (that is, its leaves, of which there are usually two, its stalk or stem, and its bud) completely fashioned.

The Unexpected stalks a farm in big boots like a vagrant bent on havoc. Not every farmer is an inventor, but the good ones have the seeds of invention within them. Economy and efficiency move their relentless tinkering and yet the real motive often seems to be aesthetic. The mind that first designed a cutter bar is not far different from a mind that can take the intractable steel of an outsized sickle blade and make it hum in the end. The question is how to reduce the simplicity that constitutes a problem ("It's simple; it's broke.") to the greater simplicity that constitutes a solution.