Terrific Quotes (4 quotes)
Basic research at universities comes in two varieties: research that requires big bucks and research that requires small bucks. Big bucks research is much like government research and in fact usually is government research but done for the government under contract. Like other government research, big bucks academic research is done to understand the nature and structure of the universe or to understand life, which really means that it is either for blowing up the world or extending life, whichever comes first. Again, that's the government's motivation. The universities' motivation for conducting big bucks research is to bring money in to support professors and graduate students and to wax the floors of ivy-covered buildings. While we think they are busy teaching and learning, these folks are mainly doing big bucks basic research for a living, all the while priding themselves on their terrific summer vacations and lack of a dress code.
Smalls bucks research is the sort of thing that requires paper and pencil, and maybe a blackboard, and is aimed primarily at increasing knowledge in areas of study that don't usually attract big bucks - that is, areas that don't extend life or end it, or both. History, political science, and romance languages are typically small bucks areas of basic research. The real purpose of small bucks research to the universities is to provide a means of deciding, by the quality of their small bucks research, which professors in these areas should get tenure.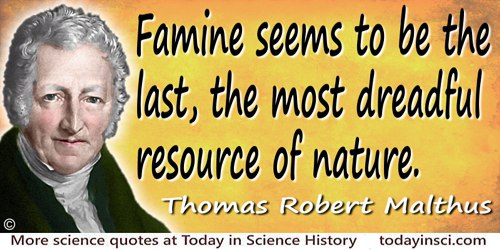 Famine seems to be the last, the most dreadful resource of nature. The power of population is so superior to the power in the earth to produce subsistence for man, that premature death must in some shape or other visit the human race. The vices of mankind are active and able ministers of depopulation. They are the precursors in the great army of destruction; and often finish the dreadful work themselves. But should they fail in this war of extermination, sickly seasons, epidemics, pestilence, and plague, advance in terrific array, and sweep off their thousands and ten thousands. Should success be still incomplete, gigantic inevitable famine stalks in the rear, and with one mighty blow, levels the population with the food of the world.

Science boasts of the distance of its stars; of the terrific remoteness of the things of which it has to speak. But poetry and religion always insist upon the proximity, the almost menacing closeness of the things with which they are concerned. Always the Kingdom of Heaven is "At Hand."

[The nanotube] brings those properties you cannot get from other organic molecules. And it's still carbon, so it has organic chemistry. Here is an object that has, to a superlative degree, the aspects that we hold most central to the inorganic world: hardness, toughness, terrific strength, thermal and electrical conductivity. Things you just can't do with bone and wood. But it's made out of carbon. It's something that plays the game at the same level of perfection as molecules and life.