Malicious Quotes (8 quotes)
Raffiniert ist der Herr Gott, aber boshaft ist er nicht.
The Lord God is subtle, but malicious he is not.

I have second thoughts. Maybe God is malicious.
Told to Valentine Bargmann.

Relations between authors and referees are, of course, almost always strained. Authors are convinced that the malicious stupidity of the referee is alone preventing them from laying their discoveries before an admiring world. Referees are convinced that authors are too arrogant and obtuse to recognize blatant fallacies in their own reasoning, even when these have been called to their attention with crystalline lucidity. All physicists know this, because all physicists are both authors and referees, but it does no good. The ability of one person to hold both views is an example of what Bohr called complementarity.

Subtle is the Lord, but malicious He is not.

The progress of science depends less than is usually believed on the efforts and performance of the individual genius ... many important discoveries have been made by men of ordinary talents, simply because chance had made them, at the proper time and in the proper place and circumstances, recipients of a body of doctrines, facts and techniques that rendered almost inevitable the recognition of an important phenomenon. It is surprising that some historian has not taken malicious pleasure in writing an anthology of 'one discovery' scientists. Many exciting facts have been discovered as a result of loose thinking and unimaginative experimentation, and described in wrappings of empty words. One great discovery does not betoken a great scientist; science now and then selects insignificant standard bearers to display its banners.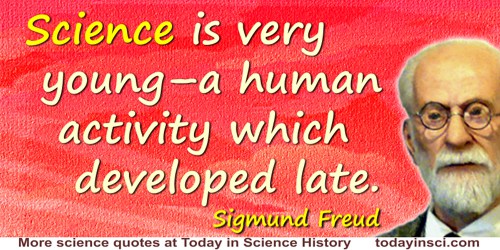 The reproaches against science for not having yet solved the problems of the universe are exaggerated in an unjust and malicious manner; it has truly not had time enough yet for these great achievements. Science is very young—a human activity which developed late.

We must painfully acknowledge that, precisely because of its great intellectual developments, the best of man's domesticated animals—the dog—most often becomes the victim of physiological experiments. Only dire necessity can lead one to experiment on cats—on such impatient, loud, malicious animals. During chronic experiments, when the animal, having recovered from its operation, is under lengthy observation, the dog is irreplaceable; moreover, it is extremely touching. It is almost a participant in the experiments conducted upon it, greatly facilitating the success of the research by its understanding and compliance.

Why then be concerned about the conservation of wildlife when for all practical purposes we would be much better off if humans and their domestic animals and pets were the only living creatures on the face of the earth? There is no obvious and demolishing answer to this rather doubtful logic although in practice the destruction of all wild animals would certainly bring devastating changes to our existence on this planet as we know it today… The trouble is that everything in nature is completely interdependent. Tinker with one part of it and the repercussions ripple out in all directions… Wildlife—and that includes everything from microbes to blue whales and from a fungus to a redwood tree—has been so much part of life on the earth that we are inclined to take its continued existence for granted… Yet the wildlife of the world is disappearing, not because of a malicious and deliberate policy of slaughter and extermination, but simply because of a general and widespread ignorance and neglect.