Sparing Quotes (2 quotes)
Bernard: Oh, you're going to zap me with penicillin and pesticides. Spare me that and I'll spare you the bomb and aerosols. But don't confuse progress with perfectibility. A great poet is always timely. A great philosopher is an urgent need. There's no rush for Isaac Newton. We were quite happy with Aristotle's cosmos. Personally, I preferred it. Fifty-five crystal spheres geared to God's crankshaft is my idea of a satisfying universe. I can't think of anything more trivial than the speed of light. Quarks, quasars—big bangs, black holes—who [cares]? How did you people con us out of all that status? All that money? And why are you so pleased with yourselves?
Chloe: Are you against penicillin, Bernard?
Bernard: Don't feed the animals.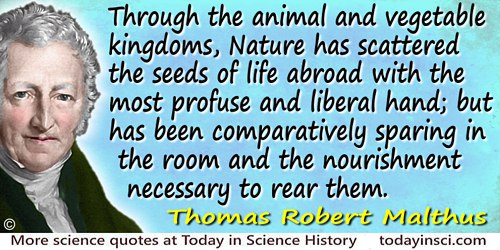 Through the animal and vegetable kingdoms, Nature has scattered the seeds of life abroad with the most profuse and liberal hand; but has been comparatively sparing in the room and the nourishment necessary to rear them. The germs of existence contained in this spot of earth, if they could freely develop themselves, would fill millions of worlds in the course of a few thousand years. Necessity, that imperious all-pervading law of nature, restrains them within the prescribed bounds. The race of plants and the race of animals shrink under this great restrictive law; and man cannot by any efforts of reason escape from it.