Liberal Quotes (8 quotes)
A wealthy doctor who can help a poor man, and will not without a fee, has less sense of humanity than a poor ruffian who kills a rich man to supply his necessities. It is something monstrous to consider a man of a liberal education tearing out the bowels of a poor family by taking for a visit what would keep them a week.

Books won't stay banned. They won't burn. Ideas won't go to jail. In the long run of history, the censor and the inquisitor have always lost. The only sure weapon against bad ideas is better ideas. The source of better ideas is wisdom. The surest path to wisdom is a liberal education.

I hate science. It denies a man's responsibility for his own deeds, abolishes the brotherhood that springs from God's fatherhood. It is a hectoring, dictating expertise, which makes the least lovable of the Church Fathers seem liberal by contrast. It is far easier for a Hitler or a Stalin to find a mock-scientific excuse for persecution than it was for Dominic to find a mock-Christian one.

I hold every man a debtor to his profession; from the which as men of course do seek to receive countenance and profit, so ought they of duty to endeavour themselves, by way of amends, to be a help and ornament thereunto. This is performed, in some degree, by the honest and liberal practice of a profession; where men shall carry a respect not to descend into any course that is corrupt and unworthy thereof, and preserve themselves free from the abuses wherewith the same profession is noted to be infected: but much more is this performed, if a man be able to visit and strengthen the roots and foundation of the science itself; thereby not only gracing it in reputation and dignity, but also amplifying it in profession and substance.

My visceral perception of brotherhood harmonizes with our best modern biological knowledge ... Many people think (or fear) that equality of human races represents a hope of liberal sentimentality probably squashed by the hard realities of history. They are wrong. This essay can be summarized in a single phrase, a motto if you will: Human equality is a contingent fact of history. Equality is not true by definition; it is neither an ethical principle (though equal treatment may be) nor a statement about norms of social action. It just worked out that way. A hundred different and plausible scenarios for human history would have yielded other results (and moral dilemmas of enormous magnitude). They didn't happen.

The enemy is not fundamentalism; it is intolerance. In this case, the intolerance is perverse since it masquerades under the 'liberal' rhetoric of 'equal time.' But mistake it not.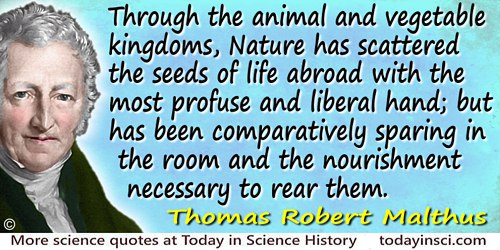 Through the animal and vegetable kingdoms, Nature has scattered the seeds of life abroad with the most profuse and liberal hand; but has been comparatively sparing in the room and the nourishment necessary to rear them. The germs of existence contained in this spot of earth, if they could freely develop themselves, would fill millions of worlds in the course of a few thousand years. Necessity, that imperious all-pervading law of nature, restrains them within the prescribed bounds. The race of plants and the race of animals shrink under this great restrictive law; and man cannot by any efforts of reason escape from it.

Upon the whole, Chymistry is as yet but an opening science, closely connected with the usefull and ornamental arts, and worthy the attention of the liberal mind. And it must always become more and more so: for though it is only of late, that it has been looked upon in that light, the great progress already made in Chymical knowledge, gives us a pleasant prospect of rich additions to it. The Science is now studied on solid and rational grounds. While our knowledge is imperfect, it is apt to run into error: but Experiment is the thread that will lead us out of the labyrinth.