Freely Quotes (13 quotes)

A great department of thought must have its own inner life, however transcendent may be the importance of its relations to the outside. No department of science, least of all one requiring so high a degree of mental concentration as Mathematics, can be developed entirely, or even mainly, with a view to applications outside its own range. The increased complexity and specialisation of all branches of knowledge makes it true in the present, however it may have been in former times, that important advances in such a department as Mathematics can be expected only from men who are interested in the subject for its own sake, and who, whilst keeping an open mind for suggestions from outside, allow their thought to range freely in those lines of advance which are indicated by the present state of their subject, untrammelled by any preoccupation as to applications to other departments of science. Even with a view to applications, if Mathematics is to be adequately equipped for the purpose of coping with the intricate problems which will be presented to it in the future by Physics, Chemistry and other branches of physical science, many of these problems probably of a character which we cannot at present forecast, it is essential that Mathematics should be allowed to develop freely on its own lines.


Euler was a believer in God, downright and straightforward. The following story is told by Thiebault, in his Souvenirs de vingt ans de séjour à Berlin, … Thiebault says that he has no personal knowledge of the truth of the story, but that it was believed throughout the whole of the north of Europe. Diderot paid a visit to the Russian Court at the invitation of the Empress. He conversed very freely, and gave the younger members of the Court circle a good deal of lively atheism. The Empress was much amused, but some of her counsellors suggested that it might be desirable to check these expositions of doctrine. The Empress did not like to put a direct muzzle on her guest's tongue, so the following plot was contrived. Diderot was informed that a learned mathematician was in possession of an algebraical demonstration of the existence of God, and would give it him before all the Court, if he desired to hear it. Diderot gladly consented: though the name of the mathematician is not given, it was Euler. He advanced toward Diderot, and said gravely, and in a tone of perfect conviction:


Monsieur, (a + bn) / n = x, donc Dieu existe; repondez!


Diderot, to whom algebra was Hebrew, was embarrassed and disconcerted; while peals of laughter rose on all sides. He asked permission to return to France at once, which was granted.


Give me the liberty to know, to utter, and to argue freely according to conscience, above all liberties.


I believe with Schopenhauer that one of the strongest motives that lead men to art and science is escape from everyday life with its painful crudity and hopeless dreariness, from the fetters of one's own ever shifting desires. A finely tempered nature longs to escape from personal life into the world of objective perception and thought; this desire may be compared with the townsman's irresistible longing to escape from his noisy, cramped surroundings into the silence of high mountains, where the eye ranges freely through the still, pure air and fondly traces out the restful contours apparently built for eternity.


If we admit our depression openly and freely, those around us get from it an experience of freedom rather than the depression itself.


It is ironical that, in the very field in which Science has claimed superiority to Theology, for example—in the abandoning of dogma and the granting of absolute freedom to criticism—the positions are now reversed. Science will not tolerate criticism of special relativity, while Theology talks freely about the death of God, religionless Christianity, and so on.


Research may start from definite problems whose importance it recognizes and whose solution is sought more or less directly by all forces. But equally legitimate is the other method of research which only selects the field of its activity and, contrary to the first method, freely reconnoitres in the search for problems which are capable of solution. Different individuals will hold different views as to the relative value of these two methods. If the first method leads to greater penetration it is also easily exposed to the danger of unproductivity. To the second method we owe the acquisition of large and new fields, in which the details of many things remain to be determined and explored by the first method.


Science, unguided by a higher abstract principle, freely hands over its secrets to a vastly developed and commercially inspired technology, and the latter, even less restrained by a supreme culture saving principle, with the means of science creates all the instruments of power demanded from it by the organization of Might.


Shall an invention be patented or donated to the public freely? I have known some well-meaning scientific men to look askance at the patenting of inventions, as if it were a rather selfish and ungracious act, essentially unworthy. The answer is very simple. Publish an invention freely, and it will almost surely die from lack of interest in its development. It will not be developed and the world will not be benefited. Patent it, and if valuable, it will be taken up and developed into a business.


The desire to fly after the fashion of the birds is an idea handed down to us by our ancestors who, in their grueling travels across trackless lands in prehistoric times, looked enviously on the birds soaring freely through space, at full speed, above all obstacles, on the infinite highway of the air.


There were details like clothing, hair styles and the fragile objects that hardly ever survive for the archaeologist—musical instruments, bows and arrows, and body ornaments depicted as they were worn. … No amounts of stone and bone could yield the kinds of information that the paintings gave so freely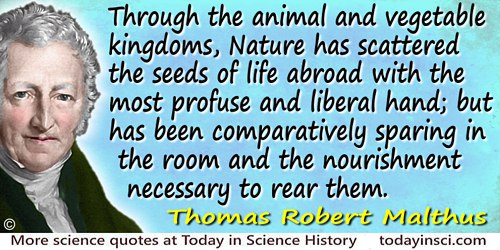 Through the animal and vegetable kingdoms, Nature has scattered the seeds of life abroad with the most profuse and liberal hand; but has been comparatively sparing in the room and the nourishment necessary to rear them. The germs of existence contained in this spot of earth, if they could freely develop themselves, would fill millions of worlds in the course of a few thousand years. Necessity, that imperious all-pervading law of nature, restrains them within the prescribed bounds. The race of plants and the race of animals shrink under this great restrictive law; and man cannot by any efforts of reason escape from it.

We must therefore bear the undoubtedly bad effect s of the weak surviving and propagating their kind; but there appears to be at least one check in steady action, namely that the weaker and inferior members of society do not marry so freely as the sound; and this check might be indefinitely increased by the weak in body or mind refraining from marriage, though this is more to be hoped for than expected.