Freely Quotes (7 quotes)
I believe with Schopenhauer that one of the strongest motives that lead men to art and science is escape from everyday life with its painful crudity and hopeless dreariness, from the fetters of one's own ever shifting desires. A finely tempered nature longs to escape from personal life into the world of objective perception and thought; this desire may be compared with the townsman's irresistible longing to escape from his noisy, cramped surroundings into the silence of high mountains, where the eye ranges freely through the still, pure air and fondly traces out the restful contours apparently built for eternity.

If we admit our depression openly and freely, those around us get from it an experience of freedom rather than the depression itself.

Science, unguided by a higher abstract principle, freely hands over its secrets to a vastly developed and commercially inspired technology, and the latter, even less restrained by a supreme culture saving principle, with the means of science creates all the instruments of power demanded from it by the organization of Might.

Shall an invention be patented or donated to the public freely? I have known some well-meaning scientific men to look askance at the patenting of inventions, as if it were a rather selfish and ungracious act, essentially unworthy. The answer is very simple. Publish an invention freely, and it will almost surely die from lack of interest in its development. It will not be developed and the world will not be benefited. Patent it, and if valuable, it will be taken up and developed into a business.

There were details like clothing, hair styles and the fragile objects that hardly ever survive for the archaeologist—musical instruments, bows and arrows, and body ornaments depicted as they were worn. … No amounts of stone and bone could yield the kinds of information that the paintings gave so freely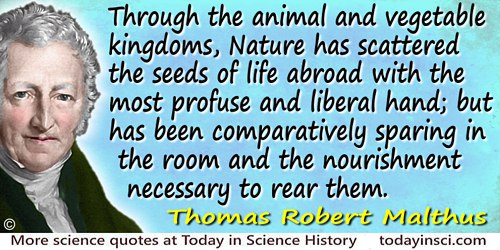 Through the animal and vegetable kingdoms, Nature has scattered the seeds of life abroad with the most profuse and liberal hand; but has been comparatively sparing in the room and the nourishment necessary to rear them. The germs of existence contained in this spot of earth, if they could freely develop themselves, would fill millions of worlds in the course of a few thousand years. Necessity, that imperious all-pervading law of nature, restrains them within the prescribed bounds. The race of plants and the race of animals shrink under this great restrictive law; and man cannot by any efforts of reason escape from it.

We must therefore bear the undoubtedly bad effect s of the weak surviving and propagating their kind; but there appears to be at least one check in steady action, namely that the weaker and inferior members of society do not marry so freely as the sound; and this check might be indefinitely increased by the weak in body or mind refraining from marriage, though this is more to be hoped for than expected.