Hopeless Quotes (14 quotes)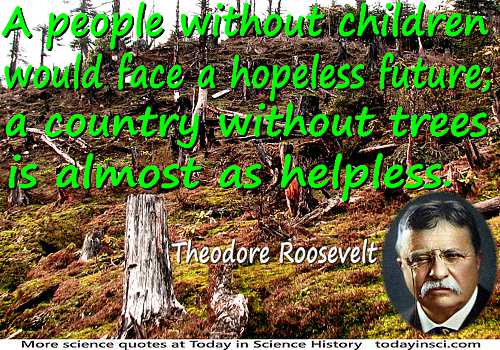 background by Pilgrim on Wheels (CC by SA 2.0)
(source)
A people without children would face a hopeless future; a country without trees is almost as helpless.

It is by no means hopeless to expect to make a machine for really very difficult mathematical problems. But you would have to proceed step-by-step. I think electricity would be the best thing to rely on.

It must happen that in some cases the author is not understood, or is very imperfectly understood; and the question is what is to be done. After giving a reasonable amount of attention to the passage, let the student pass on, reserving the obscurity for future efforts. … The natural tendency of solitary students, I believe, is not to hurry away prematurely from a hard passage, but to hang far too long over it; the just pride that does not like to acknowledge defeat, and the strong will that cannot endure to be thwarted, both urge to a continuance of effort even when success seems hopeless. It is only by experience we gain the conviction that when the mind is thoroughly fatigued it has neither the power to continue with advantage its course in .an assigned direction, nor elasticity to strike out a new path; but that, on the other hand, after being withdrawn for a time from the pursuit, it may return and gain the desired end.

Maybe the situation is hopeless. Television is just the wrong medium, at least in prime time, to teach science. I think it is hopeless if it insists on behaving like television… The people who produce these programs always respond to such complaints by insisting that no one would watch a program consisting of real scientists giving real lectures to real students. If they are right, then this sort of program is just another form of entertainment.

Never leave an unsolved difficulty behind. I mean, don't go any further in that book till the difficulty is conquered. In this point, Mathematics differs entirely from most other subjects. Suppose you are reading an Italian book, and come to a hopelessly obscure sentence—don't waste too much time on it, skip it, and go on; you will do very well without it. But if you skip a mathematical difficulty, it is sure to crop up again: you will find some other proof depending on it, and you will only get deeper and deeper into the mud.

One of the strongest motives that lead men to art and science is escape from everyday life with its painful crudity and hopeless dreariness, from the fetters of one's own ever-shifting desires. A finely tempered nature longs to escape from the personal life into the world of objective perception and thought.

Perhaps I am just a hopeless rationalist, but isn't fascination as comforting as solace? Isn't nature immeasurably more interesting for its complexities and its lack of conformity to our hopes? Isn't curiosity as wondrously and fundamentally human as compassion?

The belief in the immortality of the human soul is a dogma which is in hopeless contradiction with the most solid empirical truths of modern science.

The most hopelessly stupid man is he who is not aware that he is wise.

The whole strenuous intellectual work of an industrious research worker would appear, after all, in vain and hopeless, if he were not occasionally through some striking facts to find that he had, at the end of all his criss-cross journeys, at last accomplished at least one step which was conclusively nearer the truth.

The world in which we live is a hopeless case. I myself prefer to abide in abstractions that have nothing to do with reality.

There is no record in human history of a happy philosopher; they exist only in romantic legend. Many of them have committed suicide; many others have turned their children out of doors and beaten their wives. And no wonder. If you want to find out how a philosopher feels when he is engaged in the practise of his profession, go to the nearest zoo and watch a chimpanzee at the wearying and hopeless job of chasing fleas. Both suffer damnably, and neither can win.

When I was reading Mathematics for University honours, I would sometimes, after working a week or two at some new book, and mastering ten or twenty pages, get into a hopeless muddle, and find it just as bad the next morning. My rule was to begin the book again. And perhaps in another fortnight I had come to the old difficulty with impetus enough to get over it. Or perhaps not. I have several books that I have begun over and over again.

Without consciousness the mind-body problem would be much less interesting. With consciousness it seems hopeless.