Hopeless Quotes (9 quotes)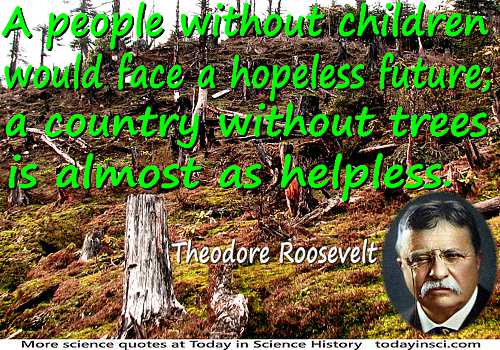 background by Pilgrim on Wheels (CC by SA 2.0)
(source)
A people without children would face a hopeless future; a country without trees is almost as helpless.

It is by no means hopeless to expect to make a machine for really very difficult mathematical problems. But you would have to proceed step-by-step. I think electricity would be the best thing to rely on.

Maybe the situation is hopeless. Television is just the wrong medium, at least in prime time, to teach science. I think it is hopeless if it insists on behaving like television… The people who produce these programs always respond to such complaints by insisting that no one would watch a program consisting of real scientists giving real lectures to real students. If they are right, then this sort of program is just another form of entertainment.

One of the strongest motives that lead men to art and science is escape from everyday life with its painful crudity and hopeless dreariness, from the fetters of one's own ever-shifting desires. A finely tempered nature longs to escape from the personal life into the world of objective perception and thought.

Perhaps I am just a hopeless rationalist, but isn't fascination as comforting as solace? Isn't nature immeasurably more interesting for its complexities and its lack of conformity to our hopes? Isn't curiosity as wondrously and fundamentally human as compassion?

The belief in the immortality of the human soul is a dogma which is in hopeless contradiction with the most solid empirical truths of modern science.

The most hopelessly stupid man is he who is not aware that he is wise.

The whole strenuous intellectual work of an industrious research worker would appear, after all, in vain and hopeless, if he were not occasionally through some striking facts to find that he had, at the end of all his criss-cross journeys, at last accomplished at least one step which was conclusively nearer the truth.

Without consciousness the mind-body problem would be much less interesting. With consciousness it seems hopeless.