Bound Quotes (13 quotes)
Der bis zur Vorrede, die ihn abweist, gelangte Leser hat das Buch für baares Geld gekauft und frägt, was ihn schadlos hält? – Meine letzte Zuflucht ist jetzt, ihn zu erinnern, daß er ein Buch, auch ohne es gerade zu lesen, doch auf mancherlei Art zu benutzen weiß. Es kann, so gut wie viele andere, eine Lücke seiner Bibliothek ausfüllen, wo es sich, sauber gebunden, gewiß gut ausnehmen wird. Oder auch er kann es seiner gelehrten Freundin auf die Toilette, oder den Theetisch legen. Oder endlich er kann ja, was gewiß das Beste von Allem ist und ich besonders rathe, es recensiren.
The reader who has got as far as the preface and is put off by that, has paid money for the book, and wants to know how he is to be compensated. My last refuge now is to remind him that he knows of various ways of using a book without precisely reading it. It can, like many another, fill a gap in his library, where, neatly bound, it is sure to look well. Or he can lay it on the dressing-table or tea-table of his learned lady friend. Or finally he can review it; this is assuredly the best course of all, and the one I specially advise.

Mon royaume est de la dimension de l'univers, et mon désir n'a pas de bornes. Je vais toujours, affranchissant l'esprit et pesant les mondes, sans haine, sans peur, sans pitié, sans amour, et sans Dieu. On m'appelle la Science.
My kingdom is of the dimension of the universe and my desire has no bounds. I am going about always to free the spirit and weigh the worlds, without hatred, without fear, without pity and without God. They call me Science.

Question: If you walk on a dry path between two walls a few feet apart, you hear a musical note or "ring" at each footstep. Whence comes this?
Answer: This is similar to phosphorescent paint. Once any sound gets between two parallel reflectors or walls, it bounds from one to the other and never stops for a long time. Hence it is persistent, and when you walk between the walls you hear the sounds made by those who walked there before you. By following a muffin man down the passage within a short time you can hear most distinctly a musical note, or, as it is more properly termed in the question, a "ring" at every (other) step.

Any frontal attack on ignorance is bound to fail because the masses are always ready to defend their most precious possession: their ignorance.

Astronomy has revealed the great truth that the whole universe is bound together by one all-pervading influence.

If a man is not bound down, he is sure to succeed.

O God, I could be bounded in a nutshell and count myself a king of infinite space, were it not that I have bad dreams.

The efforts of most human-beings are consumed in the struggle for their daily bread, but most of those who are, either through fortune or some special gift, relieved of this struggle are largely absorbed in further improving their worldly lot. Beneath the effort directed toward the accumulation of worldly goods lies all too frequently the illusion that this is the most substantial and desirable end to be achieved; but there is, fortunately, a minority composed of those who recognize early in their lives that the most beautiful and satisfying experiences open to humankind are not derived from the outside, but are bound up with the development of the individual's own feeling, thinking and acting. The genuine artists, investigators and thinkers have always been persons of this kind. However inconspicuously the life of these individuals runs its course, none the less the fruits of their endeavors are the most valuable contributions which one generation can make to its successors.

The end of our foundation [Salomon's House in the New Atlantis] is the knowledge of Causes and the secret motions of things; and the enlarging of the bounds of Human Empire, to the effecting of all things possible.

The most ominous conflict of our time is the difference of opinion, of outlook, between men of letters, historians, philosophers, the so-called humanists, on the one side and scientists on the other. The gap cannot but increase because of the intolerance of both and the fact that science is growing by leaps and bounds.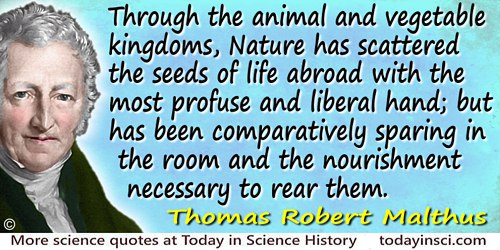 Through the animal and vegetable kingdoms, Nature has scattered the seeds of life abroad with the most profuse and liberal hand; but has been comparatively sparing in the room and the nourishment necessary to rear them. The germs of existence contained in this spot of earth, if they could freely develop themselves, would fill millions of worlds in the course of a few thousand years. Necessity, that imperious all-pervading law of nature, restrains them within the prescribed bounds. The race of plants and the race of animals shrink under this great restrictive law; and man cannot by any efforts of reason escape from it.

We are at our human finest, dancing with our minds, when there are more choices than two. Sometimes there are ten, even twenty different ways to go, all but one bound to be wrong, and the richness of the selection in such situations can lift us onto totally new ground.

We are concerned to understand the motivation for the development of pure mathematics, and it will not do simply to point to aesthetic qualities in the subject and leave it at that. It must be remembered that there is far more excitement to be had from creating something than from appreciating it after it has been created. Let there be no mistake about it, the fact that the mathematician is bound down by the rules of logic can no more prevent him from being creative than the properties of paint can prevent the artist. … We must remember that the mathematician not only finds the solutions to his problems, he creates the problems themselves.