Mythology Quotes (13 quotes)
Question: Explain why pipes burst in cold weather.
Answer: People who have not studied acoustics think that Thor bursts the pipes, but we know that is nothing of the kind for Professor Tyndall has burst the mythologies and has taught us that it is the natural behaviour of water (and bismuth) without which all fish would die and the earth be held in an iron grip. (1881)

Wenn sich für ein neues Fossil kein, auf eigenthümliche Eigenschaften desselben hinweisender, Name auffinden lassen Will; als in welchem Falle ich mich bei dem gegenwärtigen zu befinden gestehe; so halte ich es für besser, eine solche Benennung auszuwählen, die an sich gar nichts sagt, und folglich auch zu keinen unrichtigen Begriffen Anlass geben kann. Diesem zufolge will ich den Namen für die gegenwärtige metallische Substanz, gleichergestalt wie bei dem Uranium geschehen, aus der Mythologie, und zwar von den Ursöhnen der Erde, den Titanen, entlehnen, und benenne also dieses neue Metallgeschlecht: Titanium.
Wherefore no name can be found for a new fossil [element] which indicates its peculiar and characteristic properties (in which position I find myself at present), I think it is best to choose such a denomination as means nothing of itself and thus can give no rise to any erroneous ideas. In consequence of this, as I did in the case of Uranium, I shall borrow the name for this metallic substance from mythology, and in particular from the Titans, the first sons of the earth. I therefore call this metallic genus TITANIUM.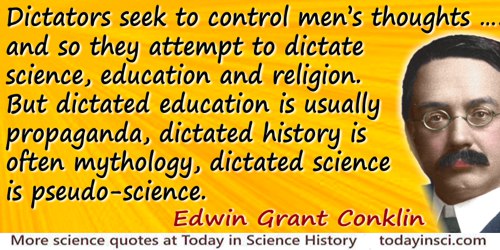 Dictators seek to control men's thoughts as well as their bodies and so they attempt to dictate science, education and religion. But dictated education is usually propaganda, dictated history is often mythology, dictated science is pseudo-science.

Freudian psychoanalytical theory is a mythology that answers pretty well to Levi-Strauss's descriptions. It brings some kind of order into incoherence; it, too, hangs together, makes sense, leaves no loose ends, and is never (but never) at a loss for explanation. In a state of bewilderment it may therefore bring comfort and relief … give its subject a new and deeper understanding of his own condition and of the nature of his relationship to his fellow men. A mythical structure will be built up around him which makes sense and is believable-in, regardless of whether or not it is true.

If science fiction is the mythology of modern technology, then its myth is tragic

Mythology is wondrous, a balm for the soul. But its problems cannot be ignored. At worst, it buys inspiration at the price of physical impossibility ... At best, it purveys the same myopic view of history that made this most fascinating subject so boring and misleading in grade school as a sequential take of monarchs and battles.

Poetry, mythology, and religion represent the world as man would like to have it, while science represents the world as he gradually comes to discover it.

Science surpasses the old miracles of mythology, to fly with them over the sea, and to send their messages under it.

The greatest scientists have always looked on scientific materialism as a kind of religion, as a mythology. They are impelled by a great desire to explore mystery, to celebrate mystery in the universe, to open it up, to read the stars, to find the deeper meaning.

The mythology of science asserts that with many different scientists all asking their own questions and evaluating the answers independently, whatever personal bias creeps into their individual answers is cancelled out when the large picture is put together. This might conceivably be so if scientists were women and men from all sorts of different cultural and social backgrounds who came to science with very different ideologies and interests. But since, in fact, they have been predominantly university-trained white males from privileged social backgrounds, the bias has been narrow and the product often reveals more about the investigator than about the subject being researched.

There is no area in our minds reserved for superstition, such as the Greeks had in their mythology; and superstition, under cover of an abstract vocabulary, has revenged itself by invading the entire realm of thought. Our science is like a store filled with the most subtle intellectual devices for solving the most complex problems, and yet we are almost incapable of applying the elementary principles of rational thought. In every sphere, we seem to have lost the very elements of intelligence: the ideas of limit, measure, degree, proportion, relation, comparison, contingency, interdependence, interrelation of means and ends. To keep to the social level, our political universe is peopled exclusively by myths and monsters; all it contains is absolutes and abstract entities. This is illustrated by all the words of our political and social vocabulary: nation, security, capitalism, communism, fascism, order, authority, property, democracy. We never use them in phrases such as: There is democracy to the extent that… or: There is capitalism in so far as… The use of expressions like "to the extent that" is beyond our intellectual capacity. Each of these words seems to represent for us an absolute reality, unaffected by conditions, or an absolute objective, independent of methods of action, or an absolute evil; and at the same time we make all these words mean, successively or simultaneously, anything whatsoever. Our lives are lived, in actual fact, among changing, varying realities, subject to the casual play of external necessities, and modifying themselves according to specific conditions within specific limits; and yet we act and strive and sacrifice ourselves and others by reference to fixed and isolated abstractions which cannot possibly be related either to one another or to any concrete facts. In this so-called age of technicians, the only battles we know how to fight are battles against windmills.

This will end the mythology of the dumb little Dutch boy with his stupid finger in the dike to save his country.
On completion of new, technologically advanced sea barrier in the Netherlands

True Agnosticism will not forget that existence, motion, and law-abiding operation in nature are more stupendous miracles than any recounted by the mythologies, and that there may be things, not only in the heavens and earth, but beyond the intelligible universe, which "are not dreamt of in our philosophy." The theological "gnosis" would have us believe that the world is a conjurer's house; the anti-theological "gnosis" talks as if it were a "dirt-pie," made by the two blind children, Law and Force. Agnosticism simply says that we know nothing of what may be behind phenomena.