Propaganda Quotes (13 quotes)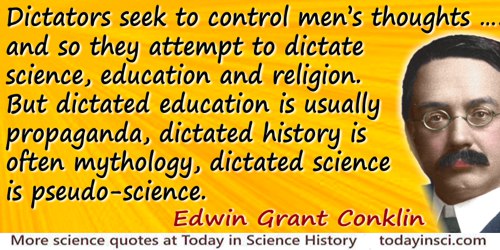 Dictators seek to control men's thoughts as well as their bodies and so they attempt to dictate science, education and religion. But dictated education is usually propaganda, dictated history is often mythology, dictated science is pseudo-science.

I believe sustainable use is the greatest propaganda in wildlife conservation at the moment.

In the last fifteen years we have witnessed an event that, I believe, is unique in the history of the natural sciences: their subjugation to and incorporation into the whirls and frenzies of disgusting publicity and propaganda. This is no doubt symptomatic of the precarious position assigned by present-day society to any form of intellectual activity. Such intellectual pursuits have at all times been both absurd and fragile; but they become ever more ludicrous when, as is now true of science, they become mass professions and must, as homeless pretentious parasites, justify their right to exist in a period devoted to nothing but the rapid consumption of goods and amusements. These sciences were always a divertissement in the sense in which Pascal used the word; but what is their function in a society living under the motto lunam et circenses? Are they only a band of court jesters in search of courts which, if they ever existed, have long lost their desire to be amused?

Indeed, the ideal for a well-functioning democratic state is like the ideal for a gentleman's well-cut suit—it is not noticed. For the common people of Britain, Gestapo and concentration camps have approximately the same degree of reality as the monster of Loch Ness. Atrocity propaganda is helpless against this healthy lack of imagination.

No man who has not a decently skeptical mind can claim to be civilized. Euclid taught me that without assumptions there is no proof. Therefore, in any argument, examine the assumptions. Then, in the alleged proof, be alert for inexplicit assumptions. Euclid's notorious oversights drove this lesson home. Thanks to him, I am (I hope!) immune to all propaganda, including that of mathematics itself.

On May 7, a few weeks after the accident at Three-Mile Island, I was in Washington. I was there to refute some of that propaganda that Ralph Nader, Jane Fonda and their kind are spewing to the news media in their attempt to frighten people away from nuclear power. I am 71 years old, and I was working 20 hours a day. The strain was too much. The next day, I suffered a heart attack. You might say that I was the only one whose health was affected by that reactor near Harrisburg. No, that would be wrong. It was not the reactor. It was Jane Fonda. Reactors are not dangerous.

Such an atmosphere is un-American, the most un-American thing we have to contend with today. It is the climate of a totalitarian country in which scientists are expected to change their theories to match changes in the police state's propaganda line.
[Stinging rebuke of J. Parnell Thomas, Chairman, House Committee on Un-American activities, who had attacked Dr. Condon (1 Mar 1948) as a weak link in American atomic security.]

Television is too powerful a force for the public good to be stopped by misleading propaganda. No one can retard TV's advance any more than carriage makers could stop the automobile, the cable the wireless, or silent pictures the talkies.

The greatest challenge facing mankind is the challenge of distinguishing reality from fantasy, truth from propaganda. We must daily decide whether the threats we face are real, whether the solutions we are offered will do any good, whether the problems we're told exist are in fact real problems, or non-problems.

The moment philosophy supposes it can find a final and comprehensive solution, it ceases to be inquiry and becomes either apologetics or propaganda.

The plain fact is that education is itself a form of propaganda–a deliberate scheme to outfit the pupil, not with the capacity to weigh ideas, but with a simple appetite for gulping ideas readymade. The aim is to make 'good' citizens, which is to say, docile and uninquisitive citizens.

There is as much difference between a collection of mentally free citizens and a community molded by modern methods of propaganda as there is between a heap of raw materials and a battleship.

Unfortunately the media have trouble distinguishing between real science and propaganda cross-dressed as science.