Dictate Quotes (11 quotes)
A scientist who would know the laws of nature must sit passively before nature. He may not dictate to nature its laws, nor may he impose his own intelligence upon nature; rather, the more passive he is before nature, the more nature will reveal its secrets.

But, as we consider the totality of similarly broad and fundamental aspects of life, we cannot defend division by two as a natural principle of objective order. Indeed, the 'stuff' of the universe often strikes our senses as complex and shaded continua, admittedly with faster and slower moments, and bigger and smaller steps, along the way. Nature does not dictate dualities, trinities, quarterings, or any 'objective' basis for human taxonomies; most of our chosen schemes, and our designated numbers of categories, record human choices from a cornucopia of possibilities offered by natural variation from place to place, and permitted by the flexibility of our mental capacities. How many seasons (if we wish to divide by seasons at all) does a year contain? How many stages shall we recognize in a human life?

Common sense is science exactly in so far as it fulfills the ideal of common sense; that is, sees facts as they are, or at any rate, without the distortion of prejudice, and reasons from them in accordance with the dictates of sound judgment. And science is simply common sense at its best, that is, rigidly accurate in observation, and merciless to fallacy in logic.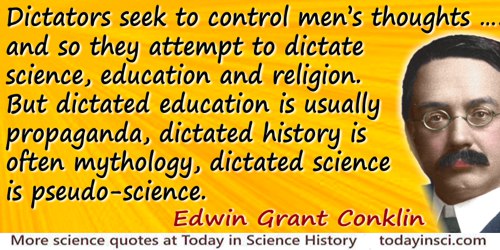 Dictators seek to control men's thoughts as well as their bodies and so they attempt to dictate science, education and religion. But dictated education is usually propaganda, dictated history is often mythology, dictated science is pseudo-science.

I hate science. It denies a man's responsibility for his own deeds, abolishes the brotherhood that springs from God's fatherhood. It is a hectoring, dictating expertise, which makes the least lovable of the Church Fathers seem liberal by contrast. It is far easier for a Hitler or a Stalin to find a mock-scientific excuse for persecution than it was for Dominic to find a mock-Christian one.

Is it absurd to imagine that our social behavior, from amoeba to man, is also planned and dictated, from stored Information, by the cells? And that the time has come for men to be entrusted with the task, through heroic efforts, of bringing life to other worlds?

Science and technology multiply around us. To an increasing extent they dictate the languages in which we speak and think. Either we use those languages, or we remain mute.

Science can be the basis of an objective criticism of political power because it claims no power itself. Politics can afford the independence of science because science does not attempt to dictate its purposes.

Scientists have long been baffled by the existence of spontaneous order in the universe. The laws of thermodynamics seem to dictate the opposite, that nature should inexorably degenerate toward a state of greater disorder, greater entropy. Yet all around

The politician … is sometimes tempted to encroach on the normal territory of the scientific estate. Sometimes he interferes directly with the scientist's pursuit of basic science; but he is more likely to interfere when the scientist proposes to publish findings that upset the established political or economic order, or when he joins with the engineering or medical profession in proposing to translate the findings of science into new policies. … Who decides when the apparent consensus of scientific opinion on the relation of cigarettes to lung cancer is great enough to justify governmental regulatory action, and of what kind? In such issues the problem is less often whether politics will presume to dictate to science than it is how much politics is to be influenced by the new findings of science.

The real scientist … is ready to bear privation and if need be starvation rather than let anyone dictate to him which direction his work must take.