Heliocentric Model Quotes (7 quotes)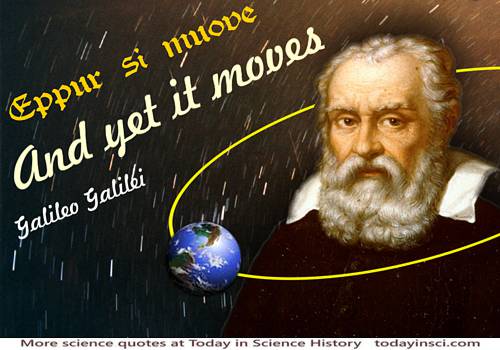 By legend (likely not in fact), Galileo quietly whispered this to himself, after his confession.
Eppur si muove.
And yet it does move.
Referring to the Earth. Apocryphal saying (of doubtful authenticity). By legend, Galileo whispered this to himself as he rose from kneeling after making his abjuration of heliocentricity.

I accepted the Copernican position several years ago and discovered from thence the causes of many natural effects which are doubtless inexplicable by the current theories. I have written up many reasons and refutations on the subject, but I have not dared until now to bring them into the open, being warned by the fortunes of Copernicus himself, our master, who procured for himself immortal fame among a few but stepped down among the great crowd (for this is how foolish people are to be numbered), only to be derided and dishonoured. I would dare publish my thoughts if there were many like you; but since there are not, I shall forbear.

I, Galileo Galilei, son of the late Vincenzo Galilei, of Florence, aged seventy years, being brought personally to judgment, and kneeling before your Most Eminent and Most Reverend Lords Cardinals, General Inquisitors of the universal Christian republic against heretical depravity, having before my eyes the Holy Gospels, which I touch with my own hands, swear that I have always believed, and now believe, and with the help of God will in future believe, every article which the Holy Catholic and Apostolic Church of Rome holds, teaches, and preaches. But because I have been enjoined by this Holy Office altogether to abandon the false opinion which maintains that the sun is the centre and immovable, and forbidden to hold, defend, or teach the said false doctrine in any manner, and after it hath been signified to me that the said doctrine is repugnant with the Holy Scripture, I have written and printed a book, in which I treat of the same doctrine now condemned, and adduce reasons with great force in support of the same, without giving any solution, and therefore have been judged grievously suspected of heresy; that is to say, that I held and believed that the sun is the centre of the universe and is immovable, and that the earth is not the centre and is movable; willing, therefore, to remove from the minds of your Eminences, and of every Catholic Christian, this vehement suspicion rightfully entertained toward me, with a sincere heart and unfeigned faith, I abjure, curse, and detest the said errors and heresies, and generally every other error and sect contrary to Holy Church; and I swear that I will never more in future say or assert anything verbally, or in writing, which may give rise to a similar suspicion of me; but if I shall know any heretic, or anyone suspected of heresy, that I will denounce him to this Holy Office, or to the Inquisitor or Ordinary of the place where I may be; I swear, moreover, and promise, that I will fulfil and observe fully, all the penances which have been or shall be laid on me by this Holy Office. But if it shall happen that I violate any of my said promises, oaths, and protestations (which God avert!), I subject myself to all the pains and punishments which have been decreed and promulgated by the sacred canons, and other general and particular constitutions, against delinquents of this description. So may God help me, and his Holy Gospels which I touch with my own hands. I, the above-named Galileo Galilei, have abjured, sworn, promised, and bound myself as above, and in witness thereof with my own hand have subscribed this present writing of my abjuration, which I have recited word for word. At Rome, in the Convent of Minerva, June 22, 1633. I, Galileo Galilei, have abjured as above with my own hand.

If Nicolaus Copernicus, the distinguished and incomparable master, in this work had not been deprived of exquisite and faultless instruments, he would have left us this science far more well-established. For he, if anybody, was outstanding and had the most perfect understanding of the geometrical and arithmetical requisites for building up this discipline. Nor was he in any respect inferior to Ptolemy; on the contrary, he surpassed him greatly in certain fields, particularly as far as the device of fitness and compendious harmony in hypotheses is concerned. And his apparently absurd opinion that the Earth revolves does not obstruct this estimate, because a circular motion designed to go on uniformly about another point than the very center of the circle, as actually found in the Ptolemaic hypotheses of all the planets except that of the Sun, offends against the very basic principles of our discipline in a far more absurd and intolerable way than does the attributing to the Earth one motion or another which, being a natural motion, turns out to be imperceptible. There does not at all arise from this assumption so many unsuitable consequences as most people think.

In my studies of astronomy and philosophy I hold this opinion about the universe, that the Sun remains fixed in the centre of the circle of heavenly bodies, without changing its place; and the Earth, turning upon itself, moves round the Sun.

It seems to me that your Reverence and Signor Galileo act prudently when you content yourselves with speaking hypothetically and not absolutely, as I have always understood that Copernicus spoke. To say that on the supposition of the Earth's movement and the Sun's quiescence all the celestial appearances are explained better than by the theory of eccentrics and epicycles is to speak with excellent good sense and to run no risk whatsoever. Such a manner of speaking is enough for a mathematician. But to want to affirm that the Sun, in very truth, is at the center of the universe and only rotates on its axis without going from east to west, is a very dangerous attitude and one calculated not only to arouse all Scholastic philosophers and theologians but also to injure our holy faith by contradicting the Scriptures.

Take note, theologians, that in your desire to make matters of faith out of propositions relating to the fixity of sun and earth you run the risk of eventually having to condemn as heretics those who would declare the earth to stand still and the sun to change position—eventually, I say, at such a time as it might be physically or logically proved that the earth moves and the sun stands still.