Interwoven Quotes (10 quotes)
[First use of the term science fiction:] We hope it will not be long before we may have other works of Science-Fiction [like Richard Henry Horne's The Poor Artist], as we believe such books likely to fulfil a good purpose, and create an interest, where, unhappily, science alone might fail.
[Thomas] Campbell says, that "Fiction in Poetry is not the reverse of truth, but her soft and enchanting resemblance." Now this applies especially to Science-Fiction, in which the revealed truths of Science may be given interwoven with a pleasing story which may itself be poetical and true—thus circulating a knowledge of Poetry of Science, clothed in a garb of the Poetry of life.

Ants are more like the parts of an animal than entities on their own. They are mobile cells, circulating through a dense connective tissue of other ants in a matrix of twigs. The circuits are so intimately interwoven that the anthill meets all the essential criteria of an organism.

But who can say that the vapour engine has not a kind of consciousness? Where does consciousness begin, and where end? Who can draw the line? Who can draw any line? Is not everything interwoven with everything? Is not machinery linked with animal life in an infinite variety of ways?

Nearly every understanding is gained by a painful struggle in which belief and unbelief are dramatically interwoven.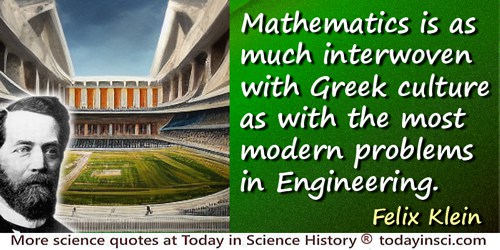 Our science, in contrast with others, is not founded on a single period of human history, but has accompanied the development of culture through all its stages. Mathematics is as much interwoven with Greek culture as with the most modern problems in Engineering. She not only lends a hand to the progressive natural sciences but participates at the same time in the abstract investigations of logicians and philosophers.

Primordial communities of bacteria were elaborately interwoven by communication links. … These turned a colony into a collective processor… The resulting learning machine was so ingenious that Eshel Ben-Jacob has called its modern bacterial counterpart a "creative web."

Science is inseparably interwoven in all that gives power and dignity to a nation.

Scientists themselves readily admit that they do not fully understand the consequences of our many-faceted assault upon the interwoven fabric of atmosphere, water, land and life in all its biological diversity. But things could also turn out to be worse than the current scientific best guess. In military affairs, policy has long been based on the dictum that we should be prepared for the worst case. Why should it be so different when the security is that of the planet and our long-term future?

The United States is the most powerful technically advanced country in the world to-day. Its influence on the shaping of international relations is absolutely incalculable. But America is a large country and its people have so far not shown much interest in great international problems, among which the problem of disarmament occupies first place today. This must be changed, if only in the essential interests of the Americans. The last war has shown that there are no longer any barriers between the continents and that the destinies of all countries are closely interwoven. The people of this country must realize that they have a great responsibility in the sphere of international politics. The part of passive spectator is unworthy of this country and is bound in the end to lead to disaster all round.

When you enter some grove, peopled with ancient trees, such as are higher than ordinary, and whose boughs are so closely interwoven that you cannot see the sky; the stately loftiness of the wood, the privacy of the place, and the awful gloom, cannot but strike you, as with the presence of a deity.