Compound Interest Quotes (4 quotes)
Compound interest is the most powerful force in the universe.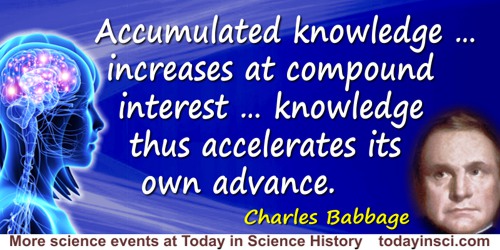 Remember that accumulated knowledge, like accumulated capital, increases at compound interest: but it differs from the accumulation of capital in this; that the increase of knowledge produces a more rapid rate of progress, whilst the accumulation of capital leads to a lower rate of interest. Capital thus checks its own accumulation: knowledge thus accelerates its own advance. Each generation, therefore, to deserve comparison with its predecessor, is bound to add much more largely to the common stock than that which it immediately succeeds.

Scientific wealth tends to accumulate according to the law of compound interest. Every addition to knowledge of the properties of matter supplies the physical scientist with new instrumental means for discovering and interpreting phenomena of nature, which in their turn afford foundations of fresh generalisations, bringing gains of permanent value into the great storehouse of natural philosophy.

The most powerful force in the universe is compound interest.