Accelerate Quotes (11 quotes)
Consider the plight of a scientist of my age. I graduated from the University of California at Berkeley in 1940. In the 41 years since then the amount of biological information has increased 16 fold; during these 4 decades my capacity to absorb new information has declined at an accelerating rate and now is at least 50% less than when I was a graduate student. If one defines ignorance as the ratio of what is available to be known to what is known, there seems no alternative to the conclusion that my ignorance is at least 25 times as extensive as it was when I got my bachelor's degree. Although I am sure that my unfortunate condition comes as no surprise to my students and younger colleagues, I personally find it somewhat depressing. My depression is tempered, however, by the fact that all biologists, young or old, developing or senescing, face the same melancholy situation because of an interlocking set of circumstances.

History shows that the human animal has always learned but progress used to be very slow. This was because learning often depended on the chance coming together of a potentially informative event on the one hand and a perceptive observer on the other. Scientific method accelerated that process.

My final word, before I'm done,
Is "Cancer can be rather fun"—
Provided one confronts the tumour
with a sufficient sense of humour.
I know that cancer often kills,
But so do cars and sleeping pills;
And it can hurt till one sweats,
So can bad teeth and unpaid debts.
A spot of laughter, I am sure,
Often accelerates one's cure;
So let us patients do our bit
To help the surgeons make us fit.

Of course we have no means of staying back for any length of Time, any more than a savage or an animal has of staying six feet above the ground. But a civilized man is better off than the savage in this respect. He can go up against gravitation in a balloon, and why should he not hope that ultimately he may be able to stop or accelerate his drift along the Time-Dimension, or even turn about and travel the other way?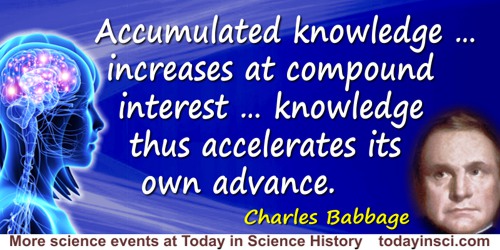 Remember that accumulated knowledge, like accumulated capital, increases at compound interest: but it differs from the accumulation of capital in this; that the increase of knowledge produces a more rapid rate of progress, whilst the accumulation of capital leads to a lower rate of interest. Capital thus checks its own accumulation: knowledge thus accelerates its own advance. Each generation, therefore, to deserve comparison with its predecessor, is bound to add much more largely to the common stock than that which it immediately succeeds.

The best way to accelerate a Macintosh is at 9.8 m/sec/sec.

The choice to 'do nothing' in response to the mounting evidence is actually a choice to continue and even accelerate the reckless environmental destruction that is creating the catastrophe at hand.

The harmony of the universe knows only one musical form - the legato; while the symphony of number knows only its opposite - the staccato. All attempts to reconcile this discrepancy are based on the hope that an accelerated staccato may appear to our senses as a legato.

The more man inquires into the laws which regulate the material universe, the more he is convinced that all its varied forms arise from the action of a few simple principles. These principles themselves converge, with accelerating force, towards some still more comprehensive law to which all matter seems to be submitted. Simple as that law may possibly be, it must be remembered that it is only one amongst an infinite number of simple laws: that each of these laws has consequences at least as extensive as the existing one, and therefore that the Creator who selected the present law must have foreseen the consequences of all other laws.

Thus will the fondest dream of Phallic science be realized: a pristine new planet populated entirely by little boy clones of great scientific entrepreneurs free to smash atoms, accelerate particles, or, if they are so moved, build pyramids—without any social relevance or human responsibility at all.

While no one can ascribe a single weather event to climate change with any degree of scientific certainty, higher maximum temperatures are one of the most predictable impacts of accelerated global warming, and the parallels—between global climate change and global terrorism—are becoming increasingly obvious.