(source)

Justus von Liebig

(12 May 1803 - 18 Apr 1873)




Science Quotes by Justus von Liebig
(29 quotes)
>> Click for Justus von Liebig Quotes on | Chemist | Chemistry |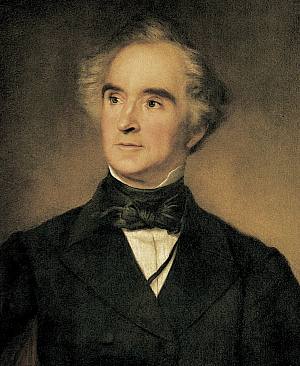 An diesen Apparate ist nichts neu als seine Einfachkeit und die vollkommene zu Verlaessigkeit, welche er gewaehst.
In this apparatus is nothing new but its simplicity and thorough trustworthiness.
On his revolutionary method of organic analysis.

— Justus von Liebig

A manure containing several ingredients acts in this wise: The effect of all of them in the soil accommodates itself to that one among them which, in comparison to the wants of the plant, is present in the smallest quantity.

— Justus von Liebig

A time will come, when fields will be manured with a solution of glass (silicate of potash), with the ashes of burnt straw, and with the salts of phosphoric acid, prepared in chemical manufactories, exactly as at present medicines are given for fever and goitre.

— Justus von Liebig

Balard did not discover bromine, rather bromine discovered Balard.
Justus von Liebig comment on Antonie Jerome Balard.

— Justus von Liebig

But it must not be forgotten that ... glass and porcelain were manufactured, stuffs dyed and metals separated from their ores by mere empirical processes of art, and without the guidance of correct scientific principles.

— Justus von Liebig

From one sublime genius—NEWTON—more light has proceeded than the labour of a thousand years preceding had been able to produce.

— Justus von Liebig

God has ordered all his Creation by Weight and Measure.
Written over the door of the world's first instructional laboratory, founded at Giessen, 1824.

— Justus von Liebig

I cannot let the year run out without sending you a sign of my continued existence and to extend my sincere wishes for the well-being of you and your dear ones in the New Year. We will not be able to send New Year greetings much longer; but even when we have passed away and have long since decomposed, the bonds that united us in life will remain and we shall be remembered as a not too common example of two men, who truly without envy and jealousy, contended and struggled in the same field, yet nevertheless remained always closely bound in friendship.

— Justus von Liebig

I have learnt that all our theories are not Truth itself, but resting places or stages on the way to the conquest of Truth, and that we must be contented to have obtained for the strivers after Truth such a resting place which, if it is on a mountain, permits us to view the provinces already won and those still to be conquered.

— Justus von Liebig

I have spent some months in England, have seen an awful lot and learned little. England is not a land of science, there is only a widely practised dilettantism, the chemists are ashamed to call themselves chemists because the pharmacists, who are despised, have assumed this name.

— Justus von Liebig

I will now direct the attention of scientists to a previously unnoticed cause which brings about the metamorphosis and decomposition phenomena which are usually called decay, putrefaction, rotting, fermentation and moldering. This cause is the ability possessed by a body engaged in decomposition or combination, i.e. in chemical action, to give rise in a body in contact with it the same ability to undergo the same change which it experiences itself.

— Justus von Liebig

I would... establish the conviction that Chemistry, as an independent science, offers one of the most powerful means towards the attainment of a higher mental cultivation; that the study of Chemistry is profitable, not only inasmuch as it promotes the material interests of mankind, but also because it furnishes us with insight into those wonders of creation which immediately surround us, and with which our existence, life, and development, are most closely connected.

— Justus von Liebig

If it is impossible to judge merit and guilt in the field of natural science, then it is not possible in any field, and historical research becomes an idle, empty activity.

— Justus von Liebig

If you want to become a chemist, you will have to ruin your health. If you don't ruin your health studying, you won't accomplish anything these days in chemistry.

— Justus von Liebig

In the progressive growth of astronomy, physics or mechanical science was developed, and when this had been, to a certain degree, successfully cultivated, it gave birth to the science of chemistry.

— Justus von Liebig

Observation is like a piece of glass, which, as a mirror, must be very smooth, and must be very carefully polished, in order that it may reflect the image pure and undistorted.

— Justus von Liebig

Only about seventy years ago was chemistry, like a grain of seed from a ripe fruit, separated from the other physical sciences. With Black, Cavendish and Priestley, its new era began. Medicine, pharmacy, and the useful arts, had prepared the soil upon which this seed was to germinate and to flourish.

— Justus von Liebig

Since the discovery of oxygen the civilised world has undergone a revolution in manners and customs. The knowledge of the composition of the atmosphere, of the solid crust of the earth, of water, and of their influence upon the life of plants and animals, was linked to that discovery. The successful pursuit of innumerable trades and manufactures, the profitable separation of metals from their ores, also stand in the closest connection therewith.

— Justus von Liebig

The loveliest theories are being overthrown by these damned experiments; it's no fun being a chemist anymore.

— Justus von Liebig

The more fodder, the more flesh; the more flesh, the more manure; the more manure, the more grain.

— Justus von Liebig

The person who observes a clock, sees in it not only the pendulum swinging to and fro, and the dial-plate, and the hands moving, for a child can see all this; but he sees also the parts of the clock, and in what connexion the suspended weight stands to the wheel-work, and the pendulum to the moving hands.

— Justus von Liebig

The progress of mankind is due exclusively to the progress of natural sciences, not to morals, religion or philosophy.

— Justus von Liebig

There are various causes for the generation of force: a tensed spring, an air current, a falling mass of water, fire burning under a boiler, a metal that dissolves in an acid—one and the same effect can be produced by means of all these various causes. But in the animal body we recognise only one cause as the ultimate cause of all generation of force, and that is the reciprocal interaction exerted on one another by the constituents of the food and the oxygen of the air. The only known and ultimate cause of the vital activity in the animal as well as in the plant is a chemical process.

— Justus von Liebig

There is in the chemist a form of thought by which all ideas become visible in the mind as strains of an imagined piece of music. This form of thought is developed in Faraday in the highest degree, whence it arises that to one who is not acquainted with this method of thinking, his scientific works seem barren and dry, and merely a series of researches strung together, while his oral discourse when he teaches or explains is intellectual, elegant, and of wonderful clearness.

— Justus von Liebig

There is no art so difficult as the art of observation: it requires a skillful, sober spirit and a well-trained experience, which can only be acquired by practice; for he is not an observer who only sees the thing before him with his eyes, but he who sees of what parts the thing consists, and in what connexion the parts stand to the whole. One person overlooks half from inattention; another relates more than he sees while he confounds it with that which he figures to himself; another sees the parts of the whole, but he throws things together that ought to be separated. ... When the observer has ascertained the foundation of a phenomenon, and he is able to associate its conditions, he then proves while he endeavours to produce the phenomena at his will, the correctness of his observations by experiment. To make a series of experiments is often to decompose an opinion into its individual parts, and to prove it by a sensible phenomenon. The naturalist makes experiments in order to exhibit a phenomenon in all its different parts. When he is able to show of a series of phenomena, that they are all operations of the same cause, he arrives at a simple expression of their significance, which, in this case, is called a Law of Nature. We speak of a simple property as a Law of Nature when it serves for the explanation of one or more natural phenomena.

— Justus von Liebig

We may fairly judge of the commercial prosperity of a country from the amount of sulphuric acid it consumes.

— Justus von Liebig

What struck me most in England was the perception that only those works which have a practical tendency awake attention and command respect, while the purely scientific, which possess far greater merit are almost unknown. And yet the latter are the proper source from which the others flow. Practice alone can never lead to the discovery of a truth or a principle. In Germany it is quite the contrary. Here in the eyes of scientific men no value, or at least but a trifling one, is placed upon the practical results. The enrichment of science is alone considered worthy attention.

— Justus von Liebig

When the state is shaken to its foundations by internal or external events, when commerce, industry and all trades shall be at a stand, and perhaps on the brink of ruin; when the property and fortune of all are shaken or changed, and the inhabitants of towns look forward with dread and apprehension to the future, then the agriculturalist holds in his hand the key to the money chest of the rich, and the savings-box of the poor; for political events have not the slightest influence on the natural law, which forces man to take into his system, daily, a certain number of ounces of carbon and nitrogen.
Reflecting on events of 1848.

— Justus von Liebig

Without an acquaintance with chemistry, the statesman must remain a stranger to the true vital interests of the state, to the means of its organic development and improvement; ... The highest economic or material interests of a country, the increased and more profitable production of food for man and animals, ... are most closely linked with the advancement and diffusion of the natural sciences, especially of chemistry.

— Justus von Liebig

---
Quotes by others about Justus von Liebig (9)
Originally a pupil of Liebig, I became a pupil of Dumas, Gerhardt and Williamson: I no longer belonged to any school.

Mr Justus Liebig is no doubt a very clever gentleman and a most profound chemist, but in our opinion he knows as much of agriculture as the horse that ploughs the ground, and there is not an old man that stands between the stilts of a plough in Virginia, that cannot tell him of facts totally at variance with his finest spun theories.

Chemistry is a gibberish of Latin and German; but in Leibig's hands it becomes a powerful language.

I suppose I should be run after for a professorship if I had studied at Giessen, as it seems to be a settled point that no young man can be expected to know anything of chemistry unless he has studied with Liebig; while the truth is, that any one who goes there and does not afterwards correct the bad habits acquired there, in some other laboratory, is almost unfitted for doing things in Chemistry. No doubt Liebig is a remarkable man, who has done much for organic Chemistry, not to speak of his having quarreled with all the Chemists in Europe...

Liebig was not a teacher in the ordinary sense of the word. Scientifically productive himself in an unusual degree, and rich in chemical ideas, he imparted the latter to his advanced pupils, to be put by them to experimental proof; he thus brought his pupils gradually to think for themselves, besides showing and explaining to them the methods by which chemical problems might be solved experimentally.

But for twenty years previous to 1847 a force had been at work in a little county town of Germany destined to effect the education of Christendom, and at the same time to enlarge the boundaries of human knowledge, first in chemistry and the allied branches, then in every other one of the natural sciences. The place was Giessen; the inventor Liebig; the method, a laboratory for instruction and research.

Liebig taught the world two great lessons. The first was that in order to teach chemistry it was necessary that students should be taken into a laboratory. The second lesson was that he who is to apply scientific thought and method to industrial problems must have a thorough knowledge of the sciences. The world learned the first lesson more readily than it learned the second.

Liebig himself seems to have occupied the role of a gate, or sorting-demon, such as his younger contemporary Clerk Maxwell once proposed, helping to concentrate energy into one favored room of the Creation at the expense of everything else.

What made von Liebig and his students "different" from other chemists was their effort to apply their fundamental discoveries to the development of specific chemical processes and products.