(source)

Josiah Dwight Whitney

(23 Nov 1819 - 19 Aug 1896)




Science Quotes by Josiah Dwight Whitney
(2 quotes)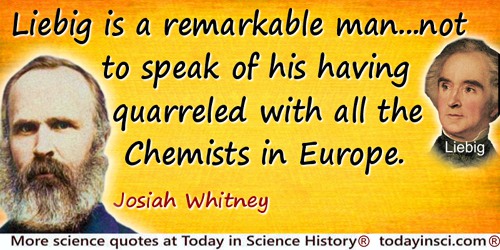 I suppose I should be run after for a professorship if I had studied at Giessen, as it seems to be a settled point that no young man can be expected to know anything of chemistry unless he has studied with Liebig; while the truth is, that any one who goes there and does not afterwards correct the bad habits acquired there, in some other laboratory, is almost unfitted for doing things in Chemistry. No doubt Liebig is a remarkable man, who has done much for organic Chemistry, not to speak of his having quarreled with all the Chemists in Europe...

— Josiah Dwight Whitney

What astronomy has done for space, geology has done for time; the one gives us the idea of infinite distance and magnitude in the starry heavens—the other, of almost infinite duration of time in the immense cycles of changes which our own planet has undergone.

— Josiah Dwight Whitney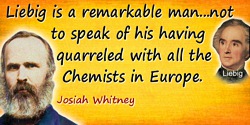 See also:
23 Nov - short biography, births, deaths and events on date of Whitney's birth.