Winding Quotes (4 quotes)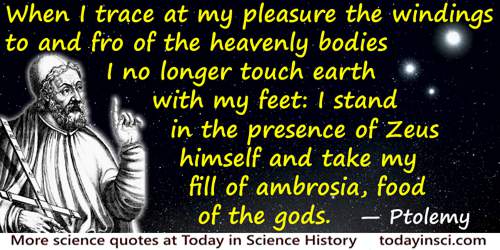 Conjunction of the moon, Venus and Jupiter
(source)
I know that I am mortal by nature, and ephemeral; but when I trace at my pleasure the windings to and fro of the heavenly bodies I no longer touch earth with my feet: I stand in the presence of Zeus himself and take my fill of ambrosia, food of the gods.

In the vast cosmical changes, the universal life comes and goes in unknown quantities ... sowing an animalcule here, crumbling a star there, oscillating and winding, ... entangling, from the highest to the lowest, all activities in the obscurity of a dizzying mechanism, hanging the flight of an insect upon the movement of the earth... Enormous gearing, whose first motor is the gnat, and whose last wheel is the zodiac.

Ploughing deep, your recipe for killing weeds, is also the recipe for almost every good thing in farming. … We now plough horizontally following the curvatures of the hills and hollows, on the dead level, however crooked the lines may be. Every furrow thus acts as a reservoir to receive and retain the waters, all of which go to the benefit of the growing plant, instead of running off into streams … In point of beauty nothing can exceed that of the waving lines and rows winding along the face of the hills and vallies.

The swelling and towering omnibuses, the huge trucks and wagons and carriages, the impetuous hansoms and the more sobered four-wheelers, the pony-carts, donkey-carts, hand-carts, and bicycles which fearlessly find their way amidst the turmoil, with foot-passengers winding in and out, and covering the sidewalks with their multitude, give the effect of a single monstrous organism, which writhes swiftly along the channel where it had run in the figure of a flood till you were tired of that metaphor. You are now a molecule of that vast organism.