Zeus Quotes (6 quotes)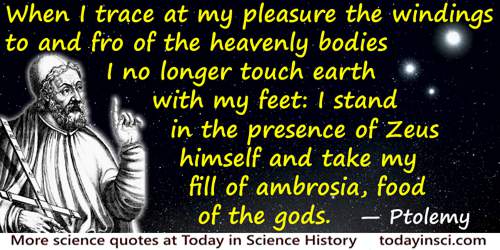 Conjunction of the moon, Venus and Jupiter
(source)
I know that I am mortal by nature, and ephemeral; but when I trace at my pleasure the windings to and fro of the heavenly bodies I no longer touch earth with my feet: I stand in the presence of Zeus himself and take my fill of ambrosia, food of the gods.

Nothing is there beyond hope
Nothing that can be sworn impossible
Nothing wonderful, since Zeus,
Father of the Olympians
Made night from mid-day
Hiding the bright sunlight
And sore fear came upon men.
[Perhaps written having seen the eclipse of 6 Apr 648 BC.]

Science can destroy religion by ignoring it as well as by disproving its tenets. No one ever demonstrated, so far as I am aware, the nonexistence of Zeus or Thor—but they have few followers now.

The dice of God are always loaded.
[A fragment from a lost play of Sophocles, "Ever the dice of Zeus fall well."]

The goddess of learning is fabled to have sprung full-grown from the brain of Zeus, but it is seldom that a scientific conception is born in its final form, or owns a single parent. More often it is the product of a series of minds, each in turn modifying the ideas of those that came before, and providing material for those that came after. The electron is no exception.

The Universe, that is the All, is made neither of gods nor of men, but ever has been and ever will be an eternal living Fire, kindling and extinguishing in destined measure, a game which Zeus plays with himself.