Ptolemy

(c. 100 - c. 170)



Ptolemy
"When I trace at my pleasure the windings"
Illustrated Quote - Large (800 x 400 px)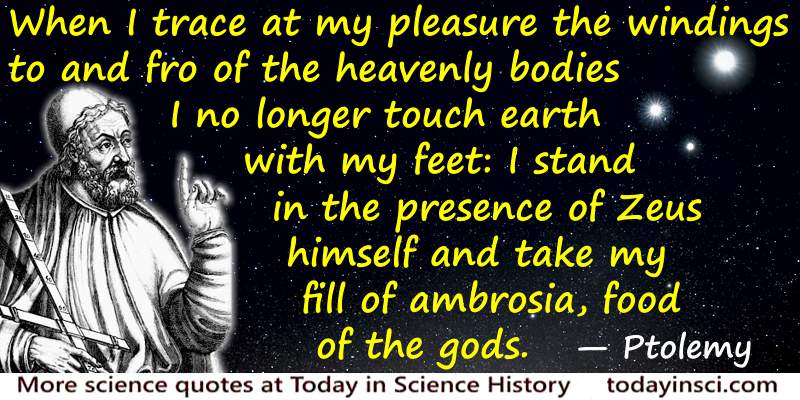 Conjunction of the moon, Venus and Jupiter
(source)
Neil DeGrasse Tyson used a longer version of this quote by Ptolemy in a magazine article he wrote1. He gave examples of scientists in centuries past reaching the boundary where their understanding fades to ignorance. At that point, as Tyson points out, the scientist faces a choice: "invoke a deity or continue the quest for knowledge." He gives as an example:
"Consider the second-century a.d. Alexandrian astronomer Ptolemy. Armed with a description, but no real understanding, of what the planets were doing up there, he could not contain his religious fervor:
I know that I am mortal by nature, and ephemeral; but when I trace at my pleasure the windings to and fro of the heavenly bodies I no longer touch earth with my feet: I stand in the presence of Zeus himself and take my fill of ambrosia, food of the gods.
As with anything Neil Degrasse Tyson writes, the whole article is worth reading. He includes further examples of scientists making a divine invocation to the "God of the Gaps," namely: Isaac Newton, Pierre-Simon de Laplace, Christiaan Huygens, and Galileo. He closes with his own commentary on "Science is a philosophy of discovery," and we sit in awe as others "boldly go where no mortal has gone before."
1
'The Perimeter of Ignorance',
Natural History
(1 Nov 2005)
(source)
.
Text by Webmaster, with quotes from Neil DeGrasse Tyson article given in footnote. The subject quote is a translation of the epigraph opening Ptolemy's book, the
Almagest
. It can also be found quoted in various books, for example, in Dava Sobel,
The Planets
(2005), 33.
(source)