Animalcule Quotes (12 quotes)
But in my opinion we can now be assured sufficiently that no animals, however small they may be, take their origin in putrefaction, but exclusively in procreation… For seeing that animals, from the largest down to the little despised animal, the flea, have animalcules in their semen, seeing also that some of the vessels of the lungs of horses and cows consist of rings and that these rings can occur on the flea's veins, why cannot we come to the conclusion that as well as the male sperm of that large animal the horse and similar animals, and of all manner of little animals, the flea included, is furnished with animalcules (and other intestines, for I have often been astonished when I beheld the numerous vessels in a flea), why, I say should not the male sperm of the smallest animals, smaller than a flea may even the very smallest animalcules have the perfection that we find in a flea.

But many of our imaginations and investigations of nature are futile, especially when we see little living animals and see their legs and must judge the same to be ten thousand times thinner than a hair of my beard, and when I see animals living that are more than a hundred times smaller and am unable to observe any legs at all, I still conclude from their structure and the movements of their bodies that they do have legs... and therefore legs in proportion to their bodies, just as is the case with the larger animals upon which I can see legs... Taking this number to be about a hundred times smaller, we therefore find a million legs, all these together being as thick as a hair from my beard, and these legs, besides having the instruments for movement, must be provided with vessels to carry food.

I have divers times examined the same matter (human semen) from a healthy man... not from a sick man... nor spoiled by keeping... for a long time and not liquefied after the lapse of some time... but immediately after ejaculation before six beats of the pulse had intervened; and I have seen so great a number of living animalcules... in it, that sometimes more than a thousand were moving about in an amount of material the size of a grain of sand... I saw this vast number of animalcules not all through the semen, but only in the liquid matter adhering to the thicker part.

I now saw very distinctly that these were little eels or worms... Lying huddled together and wriggling, just as if you saw with your naked eye a whole tubful of very little eels and water, the eels moving about in swarms; and the whole water seemed to be alive with the multitudinous animalcules. For me this was among all the marvels that I have discovered in nature the most marvellous of all, and I must say that, for my part, no more pleasant sight has yet met my eye than this of so many thousands of living creatures in one small drop of water, all huddling and moving, but each creature having its own motion.

If we reflect that a small creature such as this is provided, not only with external members, but also with intestines and other organs, we have no reason to doubt that a like creature, even if a thousand million times smaller, may already be provided with all its external and internal organs... though they may be hidden from our eyes. For, if we consider the external and internal organs of animalcules which are so small that a thousand million of them together would amount to the size of a coarse grain of sand, it may well be, however incomprehensible and unsearchable it may seem to us, that an animalcule from the male seed of whatever members of the animal kingdom, contains within itself... all the limbs and organs which an animal has when it is born.

In structure these little animals were fashioned like a bell, and at the round opening they made such a stir, that the particles in the water thereabout were set in motion thereby. … And though I must have seen quite 20 of these little animals on their long tails alongside one another very gently moving, with outstretcht bodies and straitened-out tails; yet in an instant, as it were, they pulled their bodies and their tails together, and no sooner had they contracted their bodies and tails, than they began to stick their tails out again very leisurely, and stayed thus some time continuing their gentle motion: which sight I found mightily diverting.
[Describing the ciliate Vorticella.]

In the vast cosmical changes, the universal life comes and goes in unknown quantities ... sowing an animalcule here, crumbling a star there, oscillating and winding, ... entangling, from the highest to the lowest, all activities in the obscurity of a dizzying mechanism, hanging the flight of an insect upon the movement of the earth... Enormous gearing, whose first motor is the gnat, and whose last wheel is the zodiac.

Man … begins life as an ambiguous speck of matter which can in no way be distinguished from the original form of the lowest animal or plant. He next becomes a cell; his life is precisely that of the animalcule. Cells cluster round this primordial cell, and the man is so far advanced that he might be mistaken for an undeveloped oyster; he grows still more, and it is clear that he might even be a fish; he then passes into a stage which is common to all quadrupeds, and next assumes a form which can only belong to quadrupeds of the higher type. At last the hour of birth approaches; coiled within the dark womb he sits, the image of an ape; a caricature of the man that is to be. He is born, and for some time he walks only on all fours; he utters only inarticulate sounds; and even in his boyhood his fondness for climbing trees would seem to be a relic of the old arboreal life.

Some writers, rejecting the idea which science had reached, that reefs of rocks could be due in any way to "animalcules," have talked of electrical forces, the first and last appeal of ignorance.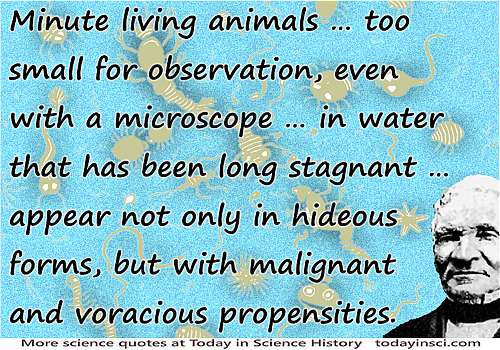 From paragraph in
Scientific American
(1846) urging the use of water filters.
(source)
The fact is generally known that nearly all liquids contain a variety of minute living animals, though in some they are too small for observation, even with a microscope. In others, especially in water that has been long stagnant, these animals appear not only in hideous forms, but with malignant and voracious propensities. … we cheerfully and heartily recommend the adoption of filters by all who use this water, from either the public or private hydrants.

Two lights for guidance. The first, our little glowing atom of community, with all that it signifies. The second, the cold light of the stars, symbol of the hypercosmical reality, with its crystal ecstasy. Strange that in this light, in which even the dearest love is frostily asserted, and even the possible defeat of our half-waking world is contemplated without remission of praise, the human crisis does not lose but gains significance. Strange, that it seems more, not less, urgent to play some part in this struggle, this brief effort of animalcules striving to win for their race some increase of lucidity before the ultimate darkness.

Upon viewing the milt or semen Masculinum of a living Codfish with a Microscope, such Numbers of Animalcules with long Tails were found therein, that at least ten thousand of them were supposed to exist in the quantity of a Grain of Sand.