(source)

Antonie van Leeuwenhoek

(24 Oct 1632 - 26 Aug 1723)




Science Quotes by Antonie van Leeuwenhoek
(13 quotes)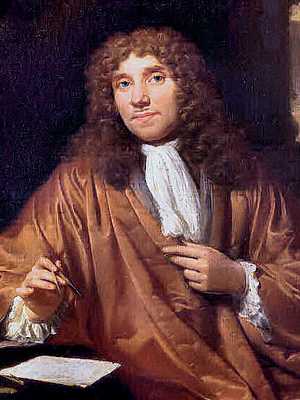 Anthonie van Leeuwenhoek, from portrait by Jan Verkolje
(source)
[M]y work, which I've done for a long time, was not pursued in order to gain the praise I now enjoy, but chiefly from a craving after knowledge, which I notice resides in me more than in most other men. And therewithal, whenever I found out anything remarkable, I have thought it my duty to put down my discovery on paper, so that all ingenious people might be informed thereof.

— Antonie van Leeuwenhoek

But in my opinion we can now be assured sufficiently that no animals, however small they may be, take their origin in putrefaction, but exclusively in procreation… For seeing that animals, from the largest down to the little despised animal, the flea, have animalcules in their semen, seeing also that some of the vessels of the lungs of horses and cows consist of rings and that these rings can occur on the flea's veins, why cannot we come to the conclusion that as well as the male sperm of that large animal the horse and similar animals, and of all manner of little animals, the flea included, is furnished with animalcules (and other intestines, for I have often been astonished when I beheld the numerous vessels in a flea), why, I say should not the male sperm of the smallest animals, smaller than a flea may even the very smallest animalcules have the perfection that we find in a flea.

— Antonie van Leeuwenhoek

But many of our imaginations and investigations of nature are futile, especially when we see little living animals and see their legs and must judge the same to be ten thousand times thinner than a hair of my beard, and when I see animals living that are more than a hundred times smaller and am unable to observe any legs at all, I still conclude from their structure and the movements of their bodies that they do have legs... and therefore legs in proportion to their bodies, just as is the case with the larger animals upon which I can see legs... Taking this number to be about a hundred times smaller, we therefore find a million legs, all these together being as thick as a hair from my beard, and these legs, besides having the instruments for movement, must be provided with vessels to carry food.

— Antonie van Leeuwenhoek

Examining this water...I found floating therein divers earthy particles, and some green streaks, spirally wound serpent-wise...and I judge that some of these little creatures were above a thousand times smaller than the smallest ones I have ever yet seen, upon the rind of cheese, in wheaten flour, mould, and the like.
[The first recorded observation of protozoa.]

— Antonie van Leeuwenhoek

I have divers times endeavoured to see and to know, what parts the Blood consists of; and at length I have observ'd, taking some Blood out of my own hand, that it consists of small round globuls driven through a Crystalline humidity or water.

— Antonie van Leeuwenhoek

I have divers times examined the same matter (human semen) from a healthy man... not from a sick man... nor spoiled by keeping... for a long time and not liquefied after the lapse of some time... but immediately after ejaculation before six beats of the pulse had intervened; and I have seen so great a number of living animalcules... in it, that sometimes more than a thousand were moving about in an amount of material the size of a grain of sand... I saw this vast number of animalcules not all through the semen, but only in the liquid matter adhering to the thicker part.

— Antonie van Leeuwenhoek

I now saw very distinctly that these were little eels or worms... Lying huddled together and wriggling, just as if you saw with your naked eye a whole tubful of very little eels and water, the eels moving about in swarms; and the whole water seemed to be alive with the multitudinous animalcules. For me this was among all the marvels that I have discovered in nature the most marvellous of all, and I must say that, for my part, no more pleasant sight has yet met my eye than this of so many thousands of living creatures in one small drop of water, all huddling and moving, but each creature having its own motion.

— Antonie van Leeuwenhoek

If we reflect that a small creature such as this is provided, not only with external members, but also with intestines and other organs, we have no reason to doubt that a like creature, even if a thousand million times smaller, may already be provided with all its external and internal organs... though they may be hidden from our eyes. For, if we consider the external and internal organs of animalcules which are so small that a thousand million of them together would amount to the size of a coarse grain of sand, it may well be, however incomprehensible and unsearchable it may seem to us, that an animalcule from the male seed of whatever members of the animal kingdom, contains within itself... all the limbs and organs which an animal has when it is born.

— Antonie van Leeuwenhoek

In structure these little animals were fashioned like a bell, and at the round opening they made such a stir, that the particles in the water thereabout were set in motion thereby. … And though I must have seen quite 20 of these little animals on their long tails alongside one another very gently moving, with outstretcht bodies and straitened-out tails; yet in an instant, as it were, they pulled their bodies and their tails together, and no sooner had they contracted their bodies and tails, than they began to stick their tails out again very leisurely, and stayed thus some time continuing their gentle motion: which sight I found mightily diverting.
[Describing the ciliate Vorticella.]

— Antonie van Leeuwenhoek

Passing just lately over this lake, … and examining this water next day, I found floating therein divers earthy particles, and some green streaks, spirally wound serpent-wise, and orderly arranged, after the manner of the copper or tin worms, which distillers use to cool their liquors as they distil over. The whole circumference of each of these streaks was about the thickness of a hair of one's head. … all consisted of very small green globules joined together: and there were very many small green globules as well. [The earliest recorded observation of the common green alga Spyrogyra.]

— Antonie van Leeuwenhoek

People who look for the first time through a microscope say now I see this and then I see that—and even a skilled observer can be fooled. On these observations I have spent more time than many will believe, but I have done them with joy, and I have taken no notice of those who have said why take so much trouble and what good is it?—but I do not write for such people but only for the philosophical!

— Antonie van Leeuwenhoek

The 31th of May, I perceived in the same water more of those Animals, as also some that were somewhat bigger. And I imagine, that [ten hundred thousand] of these little Creatures do not equal an ordinary grain of Sand in bigness: And comparing them with a Cheese-mite (which may be seen to move with the naked eye) I make the proportion of one of these small Water-creatures to a Cheese-mite, to be like that of a Bee to a Horse: For, the circumference of one of these little Animals in water, is not so big as the thickness of a hair in a Cheese-mite.

— Antonie van Leeuwenhoek

The 4th sort of creatures... which moved through the 3 former sorts, were incredibly small, and so small in my eye that I judged, that if 100 of them lay [stretched out] one by another, they would not equal the length of a grain of course Sand; and according to this estimate, ten hundred thousand of them could not equal the dimensions of a grain of such course Sand. There was discover'd by me a fifth sort, which had near the thickness of the former, but they were almost twice as long.
The first time bacteria were observed.

— Antonie van Leeuwenhoek

---
Quotes by others about Antonie van Leeuwenhoek (4)
It was a standing joke of [Dr. Chapman] to quote old Leuwenhoeck as having discovered 'twenty thousand devils playing upon the point of a needle' thus foreshadowing some of the most remarkable discoveries of the present day, especially disease germs.

Among those whom I could never pursuade to rank themselves with idlers, and who speak with indignation of my morning sleeps and nocturnal rambles, one passes the day in catching spiders, that he may count their eyes with a microscope; another exhibits the dust of a marigold separated from the flower with a dexterity worthy of Leuwenhoweck himself. Some turn the wheel of electricity; some suspend rings to a lodestone, and find that what they did yesterday, they can do again to-day.—Some register the changes of the wind, and die fully convinced that the wind is changeable.—There are men yet more profound, who have heard that two colorless liquors may produce a color by union, and that two cold bodies will grow hot of they are mingled: they mingle them, and produce the effect expected, say it is strange, and mingle them again.

I had this experience at the age of eight. My parents gave me a microscope. I don't recall why, but no matter. I then found my own little world, completely wild and unconstrained, no plastic, no teacher, no books, no anything predictable. At first I did not know the names of the water-drop denizens or what they were doing. But neither did the pioneer microscopists. Like them, I graduated to looking at butterfly scales and other miscellaneous objects. I never thought of what I was doing in such a way, but it was pure science. As true as could be of any child so engaged, I was kin to Leeuwenhoek, who said that his work "was not pursued in order to gain the praise I now enjoy, but chiefly from a craving after knowledge, which I notice resides in me more that most other men."

We have seen so many, and those of his [Leeuwenhoek] most surprising discoveries, so perfectly confirmed by great numbers of the most curious and judicious Observers, that there can surely be no reason to distrust his accuracy in those others which have not yet been so frequently or carefully examined.