Predictability Quotes (7 quotes)
A discussion between Haldane and a friend began to take a predictable turn. The friend said with a sigh, "It's no use going on. I know what you will say next, and I know what you will do next." The distinguished scientist promptly sat down on the floor, turned two back somersaults, and returned to his seat. "There," he said with a smile. "That's to prove that you're not always right."

By the 18th century science had been so successful in laying bare the laws of nature that many thought there was nothing left to discover. Immutable laws prescribed the motion of every particle in the universe, exactly and forever: the task of the scientist was to elucidate the implications of those laws for any particular phenomenon of interest. Chaos gave way to a clockwork world. But the world moved on ...Today even our clocks are not made of clockwork. ... With the advent of quantum mechanics, the clockwork world has become a lottery. Fundamental events, such as the decay of a radioactive atom, are held to be determined by chance, not law.

I had this experience at the age of eight. My parents gave me a microscope. I don't recall why, but no matter. I then found my own little world, completely wild and unconstrained, no plastic, no teacher, no books, no anything predictable. At first I did not know the names of the water-drop denizens or what they were doing. But neither did the pioneer microscopists. Like them, I graduated to looking at butterfly scales and other miscellaneous objects. I never thought of what I was doing in such a way, but it was pure science. As true as could be of any child so engaged, I was kin to Leeuwenhoek, who said that his work "was not pursued in order to gain the praise I now enjoy, but chiefly from a craving after knowledge, which I notice resides in me more that most other men."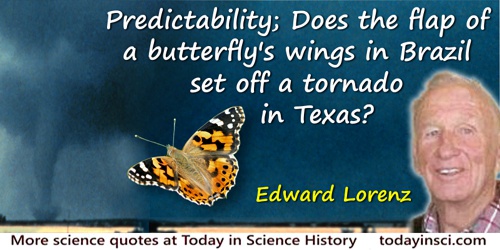 Predictability: Does the flap of a butterfly's wings in Brazil set off a tornado in Texas?

Science is a method of logical analysis of nature's operations. It has lessened human anxiety about the cosmos by demonstrating the materiality of nature's forces, and their frequent predictability.

Scientists are the easiest to fool. ... They think in straight, predictable, directable, and therefore misdirectable, lines. The only world they know is the one where everything has a logical explanation and things are what they appear to be. Children and conjurors—they terrify me. Scientists are no problem; against them I feel quite confident.

The Universe forces those who live in it to understand it. Those creatures who find everyday experience a muddled jumble of events with no predictability, no regularity, are in grave peril. The Universe belongs to those who, at least to some degree, have figured it out.