Tornado Quotes (4 quotes)
HURRICANE, n. An atmospheric demonstration once very common but now generally abandoned for the tornado and cyclone. The hurricane is still in popular use in the West Indies and is preferred by certain old-fashioned sea-captains.

If the flap of a butterfly's wings can be instrumental in generating a tornado, it can equally well be instrumental in preventing a tornado.

Partly because of improved technology, partly because of the pressures of inflation, partly from causes few understand or agree about, prices have soared. A Spitfire cost £5000 in 1940. A Tornado Air Defence Fighter costs £14 million today. That is a lot of inflation! And even when all has been said about the greater effectiveness of the latter machine, so that far fewer are needed, there still remains a mighty problem. There tend to be limits to the extent to which numbers can be reduced by superior quality. A ship can only cover a certain amount of ocean, however sophisticated it may be; and the most formidable of tanks can't do much beyond the limits of its commander's sight. There is a minimum numerical requirement, and meeting it with equipment capable of taking on the enemy was already, in 1955, a source of worry.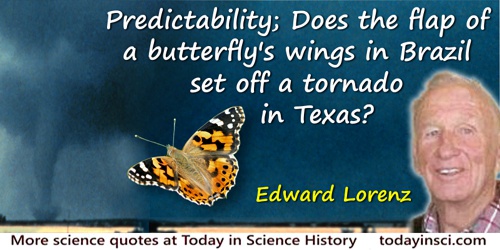 Predictability: Does the flap of a butterfly's wings in Brazil set off a tornado in Texas?