Chaos Theory Quotes (4 quotes)
Chaos theory is a new theory invented by scientists panicked by the thought that the public were beginning to understand the old ones.

Finite systems of deterministic ordinary nonlinear differential equations may be designed to represent forced dissipative hydrodynamic flow. Solutions of these equations can be identified with trajectories in phase space. For those systems with bounded solutions, it is found that nonperiodic solutions are ordinarily unstable with respect to small modifications, so that slightly differing initial states can evolve into considerably different states. Systems with bounded solutions are shown to possess bounded numerical solutions.
A simple system representing cellular convection is solved numerically. All of the solutions are found to be unstable, and almost all of them are nonperiodic.
The feasibility of very-long-range weather prediction is examined in the light of these results

Mathematicians … believed that prediction was just a function of keeping track of things. If you knew enough, you could predict anything. … Chaos theory throws it right out the window because … in fact there are great categories of phenomena that are inherently unpredictable.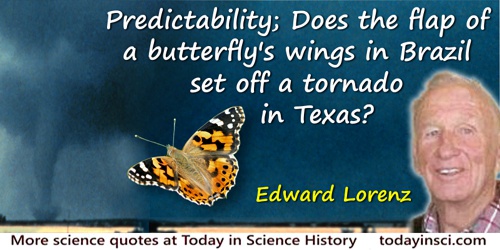 Predictability: Does the flap of a butterfly's wings in Brazil set off a tornado in Texas?