Butterfly Effect Quotes (4 quotes)
For want of a nail the shoe was lost; for want of a shoe the horse was lost; and for want of a horse, the rider was lost, being overtaken and slain by the enemy; all for the want of a horse-shoe nail.

If the flap of a butterfly's wings can be instrumental in generating a tornado, it can equally well be instrumental in preventing a tornado.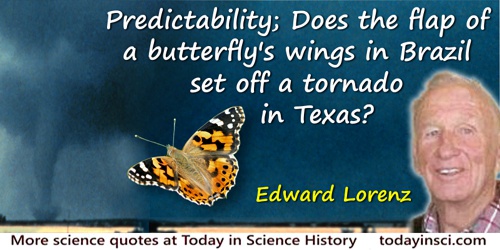 Predictability: Does the flap of a butterfly's wings in Brazil set off a tornado in Texas?

Who then can calculate the path of the molecule? how do we know that the creations of worlds are not determined by the fall of grains of sand?