Wound Quotes (11 quotes)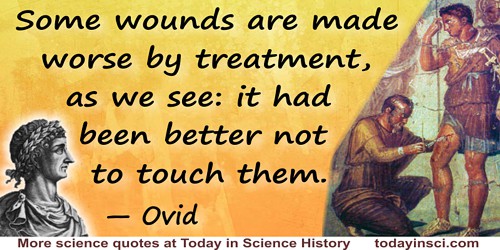 Wall mural uncovered at Pompeii shows a Roman army medic using pinchers to remove an object from a soldier's wound from before 79
a.d.
(source)
Curando fieri quaedam majora videmus vulnera, quae melius non tetigisse fuit.
Some wounds are made worse by treatment, as we see: it had been better not to touch them.

A man who has once looked with the archaeological eye will never see quite normally. He will be wounded by what other men call trifles. It is possible to refine the sense of time until an old shoe in the bunch grass or a pile of nineteenth century beer bottles in an abandoned mining town tolls in one's head like a hall clock.

A paper cut — A tree's last laugh!

A paper cut — A tree's last revenge!

A wise physician, skill'd our wounds to heal, is more than armies to the public weal.

For mining I cannot say much good except that its operations are generally short-lived. The extractable wealth is taken and the shafts, the tailings, and the ruins left, and in a dry country such as the American West the wounds men make in the earth do not quickly heal.

For what is that which we call evil but the absence of good? In the bodies of animals, disease and wounds mean nothing but the absence of health; for when a cure is effected, that does not mean that the evils which were present—namely, the diseases and wounds—go away from the body and dwell elsewhere: they altogether cease to exist; for the wound or disease is not a substance, but a defect in the fleshly substance,—the flesh itself being a substance, and therefore something good, of which those evils—that is, privations of the good which we call health—are accidents. Just in the same way, what are called vices in the soul are nothing but privations of natural good. And when they are cured, they are not transferred elsewhere: when they cease to exist in the healthy soul, they cannot exist anywhere else.

I don't dawdle. I'm a surgeon. I make an incision, do what needs to be done and sew up the wound. There is a beginning, a middle, and an end.
[On writing.]

IN MEMORIAM: FLORENCE NIGHTINGALE
She whom we love, our Lady of Compassion,
Can never die, for Love forbids her death.
Love has bent down in his old kindly fashion,
And breathed upon her his immortal breath.
On wounded soldiers, in their anguish lying,
Her gentle spirit shall descend like rain.
Where the white flag with the red cross is flying,
There shall she dwell, the vanquisher of pain.
[In remembrance of 'The Lady of the Lamp' who died 13 Aug 1910.]

March 24, 1672. I saw the surgeon cut off the leg of a wounded sailor, the stout and gallant man enduring it with incredible patience without being bound to his chair as usual on such painful occasions. I had hardly courage enough to be present. Not being cut off high enough, the gangrene prevailed, and the second operation cost the poor creature his life.

The Egyptian mummies, which Cambyses or time hath spared, avarice now consumeth. Mummy is become merchandise, Mizraim cures wounds, and Pharaoh is sold for balsams.