Softly Quotes (6 quotes)
In shades of black and blue the skies do bow as darkness falls the lights go out.
Nature softly immersed in glee as all mankind drifts off to sleep.
Water breathes a sigh of relief now aquatic creatures can do as they please.
Animals whether large or small regain the natural instincts that man has fought.
The moon shines bright he's happy too people can't over-ride his rules.
Midnight calms the wounds of the world the break of dawn disperses new hope...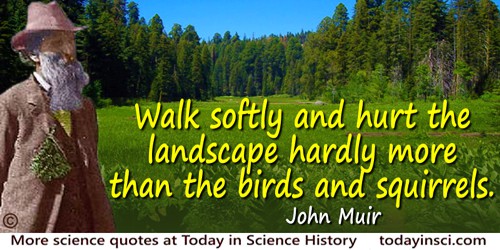 Crescent Meadow in Sequoia National Park
(source)
Indians walk softly and hurt the landscape hardly more than the birds and squirrels, and their brush and bark huts last hardly longer than those of wood rats, while their more enduring monuments, excepting those wrought on the forests by the fires they made to improve their hunting grounds, vanish in a few centuries.

The vast spread
Of darkness
That speaks of mystery
The darkness that reveals
The beauty that lies beneath
In the form of glittering
Stars, a countless beauty
That seemed to conceal
A million stories
That can make the mankind
Take a new look at life
And the majestic moon
That silently looks at mankind
Wondering how its serenity
Was disturbed by the little steps
Of a man from the beautiful earth
Yet softly smiling back
And let the world sleep
In its magical glow
A glow that soothes
The world's senses
And forget the pain of reality

The weather is warm
The sun is out
There are people all around
The waves come flowing
And hits the shore
But makes so little sound
The wind is blowing
Oh so softly
The sand between my feet
The dolphins jump
The people watch
They even take a seat
I fly around
Watching from above
Today is like everyday
That is something I love

There exists no separation between gods and men; one blends softly casual into the other.

Winter opened its vaults last night, flinging fistfuls of crystalline diamonds into the darkening sky. Like white-tulled ballerinas dancing gracefully on heaven's stage, silent stars stood entranced by their intricate beauty. Motionless, I watched each lacy gem drift softly by my upturned face, as winter's icy hands guided them gently on their swirling lazy way, and blanketed the waiting earth in cold splendor. The shivering rustling of reeds, the restless fingers of the trees snapping in the frosty air, broke the silent stillness, as winter quietly pulled up its white coverlet over the sleepy earth.