Hurt Quotes (6 quotes)
Be not afeard.
The isle is full of noises,
Sounds, and sweet airs, that give delight and hurt not.
Sometimes a thousand twangling instruments
Will hum about mine ears; and sometime voices
That if I then had waked after long sleep
Will make me sleep again; and then, in dreaming
The clouds methought would open and show riches
Ready to drop upon me, that, when I waked,
I cried to dream again.

In arms and science tis the same
Our rival's hurts create our fame.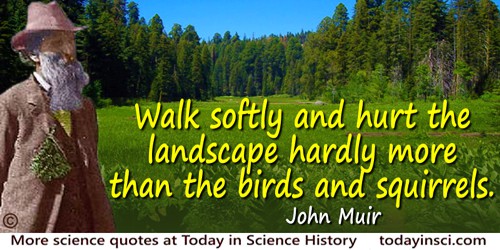 Crescent Meadow in Sequoia National Park
(source)
Indians walk softly and hurt the landscape hardly more than the birds and squirrels, and their brush and bark huts last hardly longer than those of wood rats, while their more enduring monuments, excepting those wrought on the forests by the fires they made to improve their hunting grounds, vanish in a few centuries.

It is not the lie that passeth through the mind, but the lie that sinketh in and settleth in it, that doth the hurt.

Unfortunately what is little recognized is that the most worthwhile scientific books are those in which the author clearly indicates what he does not know; for an author most hurts his readers by concealing difficulties.

You ask me how, with so much study, I manage to retene my health. ... Morpheous is my last companion ; without 8 or 9 hours of him yr correspondent is not worth one scavenger's peruke. My practices did at ye first hurt my stomach, but now I eat heartily enou' as y' will see when I come down beside you. [On the value of sleep, and harm of eating poorly while intent on study.]