Tin Quotes (11 quotes)
As there are six kinds of metals, so I have also shown with reliable experiments… that there are also six kinds of half-metals. I through my experiments, had the good fortune … to be the discoverer of a new half-metal, namely cobalt regulus, which had formerly been confused with bismuth.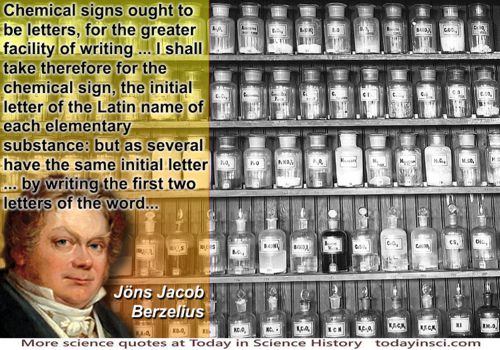 Laboratory chemicals shelf at Miami University (1911)
(source)
Chemical signs ought to be letters, for the greater facility of writing, and not to disfigure a printed book ... I shall take therefore for the chemical sign, the initial letter of the Latin name of each elementary substance: but as several have the same initial letter, I shall distinguish them in the following manner:— 1. In the class which I shall call metalloids, I shall employ the initial letter only, even when this letter is common to the metalloid and to some metal. 2. In the class of metals, I shall distinguish those that have the same initials with another metal, or a metalloid, by writing the first two letters of the word. 3. If the first two letters be common to two metals, I shall, in that case, add to the initial letter the first consonant which they have not in common: for example, S = sulphur, Si = silicium, St = stibium (antimony), Sn = stannum (tin), C = carbonicum, Co = colbaltum (colbalt), Cu = cuprum (copper), O = oxygen, Os = osmium, &c.

Consider the eighth category, which deals with stones. Wilkins divides them into the following classifications: ordinary (flint, gravel, slate); intermediate (marble, amber, coral); precious (pearl, opal); transparent (amethyst, sapphire); and insoluble (coal, clay, and arsenic). The ninth category is almost as alarming as the eighth. It reveals that metals can be imperfect (vermilion, quicksilver); artificial (bronze, brass); recremental (filings, rust); and natural (gold, tin, copper). The whale appears in the sixteenth category: it is a viviparous, oblong fish. These ambiguities, redundances, and deficiencies recall those attributed by Dr. Franz Kuhn to a certain Chinese encyclopedia entitled Celestial Emporium of Benevolent Knowledge. On those remote pages it is written that animals are divided into (a) those that belong to the Emperor, (b) embalmed ones, (c) those that are trained, (d) suckling pigs, (e) mermaids, (f) fabulous ones, (g) stray dogs, (h) those that are included in this classification, (i) those that tremble as if they were mad, (j) innumerable ones, (k) those drawn with a very fine camel's hair brush, (l) others, (m) those that have just broken a flower vase, (n) those that resemble flies from a distance.

I wol yow telle, as was me taught also,
The foure spirites and the bodies sevene,
By ordre, as ofte I herde my lord hem nevene.
The firste spirit quiksilver called is,
The second orpiment, the thridde, ywis,
Sal armoniak, and the firthe brimstoon.
The bodies sevene eek, lo! hem heer anoon:
Sol gold is, and Luna silver we threpe,
Mars yron, Mercurie quiksilver we clepe,
Saturnus leed, and Jupiter is tin,
And Venus coper, by my fader kin!

March 15th. Imperial Banquet for Welcoming the English Cruelty to Animals. MENU OF FOODS: VITAMIN A, Tin Sardines. VITAMIN B, Roasted Beef. VITAMIN C, Small Roasted Suckling Porks. VITAMIN D, Hot Sheep and Onions. VITAMIN E, Spiced Turkey. VITAMIN F, Sweet Puddings. VITAMIN G, Coffee. VITAMIN H, Jam.

Tarshish was thy merchant by reason of the multitude of all kind of riches; with silver, iron, tin and lead, they traded in thy fairs.

The condensed air becomes attached to [the metallic calx], and adheres little by little to the smallest of its particles: thus its weight increases from the beginning to the end: but when all is saturated, it can take up no more.

The path of civilization is paved with tin cans.

There are reported to be six species of metals, namely, gold, silver, iron, copper, tin, and lead. Actually there are more. Mercury is a metal although we differ on this point with the chemists. Plumbum cinereum (gray lead) which we call bisemutum was unknown to the older Greek writers. On the other hand, Ammonius writes correctly many metals are unknown to us, as well as many plants and animals.

There's antimony, arsenic, aluminium, selenium,
And hydrogen and oxygen and
nitrogen and rhenium,
And nickel, neodymium, neptunium, germanium,
And iron, americium, ruthenium, uranium,
Europium, zirconium, lutetium, vanadium,
And lanthanum and osmium and astatine and radium,
And gold and protactinium and indium and gallium,
And iodine and thorium and thulium and thallium.
There's yttrium, ytterbium, actinium, rubidium,
And boron, gadolinium, niobium, iridium,
And strontium and silicon and silver and samarium,
And bismuth, bromine, lithium, beryllium and barium.
There's holmium and helium and hafnium and erbium,
And phosphorus and francium and fluorine and terbium,
And manganese and mercury, molybdenum, magnesium,
Dysprosium and scandium and cerium and cesium,
And lead, praseodymium and platinum, plutonium,
Palladium, promethium, potassium, polonium,
And tantalum, technetium, titanium, tellurium,
And cadmium and calcium and chromium and curium.
There's sulfur, californium and fermium, berkelium,
And also mendelevium, einsteinium, nobelium,
And argon, krypton, neon, radon, xenon, zinc and rhodium,
And chlorine, cobalt, carbon, copper, tungsten, tin and sodium.
These are the only ones of which the news has come to Harvard,
And there may be many others, but they haven't been discarvard.
[To the tune of I am the Very Model of a Modern Major General.]

Where there is cinnabar above, yellow gold will be found below. Where there is lodestone above, copper and gold be found below. Where there is calamine above, lead, tin, and red copper will be found below. Where there is haematite above, iron will be found below. Thus it can be seen that mountains are full of riches.