Cylinder Quotes (11 quotes)
'Tis evident, that as common Air when reduc'd to half Its wonted extent, obtained near about twice as forcible a Spring as it had before; so this thus- comprest Air being further thrust into half this narrow room, obtained thereby a Spring about as strong again as that It last had, and consequently four times as strong as that of the common Air. And there is no cause to doubt, that If we had been here furnisht with a greater quantity of Quicksilver and a very long Tube, we might by a further compression of the included Air have made It counter-balance "the pressure" of a far taller and heavier Cylinder of Mercury. For no man perhaps yet knows how near to an infinite compression the Air may be capable of, If the compressing force be competently increast.

[Archimedes] is said to have requested his friends and relations that when he was dead, they would place over his tomb a sphere containing a cylinder, inscribing it with the ratio which the containing solid bears to the contained.

About 6 or 8 years ago My Ingenious friend Mr John Robinson having [contrived] conceived that a fire engine might be made without a Lever—by Inverting the Cylinder & placing it above the mouth of the pit proposed to me to make a model of it which was set about by having never Compleated & I [being] having at that time Ignorant little knoledge of the machine however I always thought the Machine Might be applied to [more] other as valuable purposes [than] as drawing Water.

Following the example of Archimedes who wished his tomb decorated with his most beautiful discovery in geometry and ordered it inscribed with a cylinder circumscribed by a sphere, James Bernoulli requested that his tomb be inscribed with his logarithmic spiral together with the words, "Eadem mutata resurgo," a happy allusion to the hope of the Christians, which is in a way symbolized by the properties of that curve.

Having been the discoverer of many splendid things, he is said to have asked his friends and relations that, after his death, they should place on his tomb a cylinder enclosing a sphere, writing on it the proportion of the containing solid to that which is contained.

I had gone on a walk on a fine Sabbath afternoon. I had entered the Green [of Glasgow] by the gate at the foot of Charlotte Street—had passed the old washing-house. I was thinking upon the engine at the time, and had gone as far as the herd's house, when the idea came into my mind that as steam was an elastic body it would rush into a vacuum, and if a communication were made between the cylinder and an exhausted vessel it would rush into it, and might be there condensed without cooling the cylinder. I then saw that I must get rid of the condensed steam and injection water if I used a jet, as in Newcomen's engine. Two ways of doing this occurred to me. First, the water might be run off by a descending pipe, if an outlet could be got at the depth of 35 or 36 feet, and any air might be extracted by a small pump. The second was to make the pump large enough to extract both water and air. ... I had not walked further than the Golf-house when the whole thing was arranged in my mind.
[In Robert Hart's words, a recollection of the description of Watt's moment of inspiration, in May 1765, for improving Thomas Newcomen's steam engine.]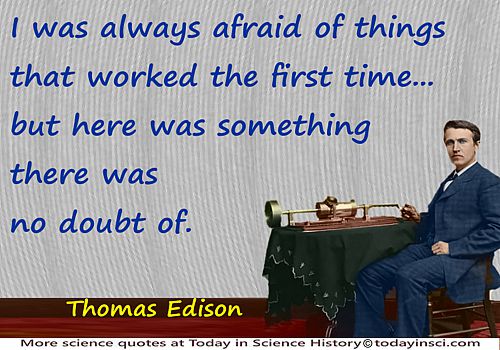 I was always afraid of things that worked the first time. Long experience proved that there were great drawbacks found generally before they could be got commercial; but here was something there was no doubt of.
[Recalling astonishment when his tin-foil cylinder phonograph first played back his voice recording of "Mary had a little lamb."]

Modern philosophers, to avoid circumlocutions, call that instrument, wherein a cylinder of quicksilver, of between 28 to 32 inches in altitude, is kept suspended after the manner of the Torricellian experiment, a barometer or baroscope.

See in Nature the cylinder, the sphere, the cone.

The axis cylinders of all nerve fibers (motor, secretory, sensitive and sensory, conducting centrifugally or centripetally) have been proved to proceed directly from the cells. A connection with a fiber network, or an origin from such a network, does not take place.

THE DYING AIRMAN
A handsome young airman lay dying,
As on the aerodrome he lay,
To the mechanics who round him came sighing,
These last words he did say.
"Take the cylinders out of my kidneys,
The connecting-rod out of my brain,
Take the cam-shaft from out of my backbone,
And assemble the engine again."