(source)

James Watt

(19 Jan 1736 - 19 Aug 1819)




Science Quotes by James Watt
(2 quotes)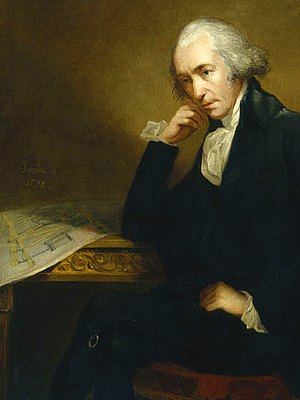 About 6 or 8 years ago My Ingenious friend Mr John Robinson having [contrived] conceived that a fire engine might be made without a Lever—by Inverting the Cylinder & placing it above the mouth of the pit proposed to me to make a model of it which was set about by having never Compleated & I [being] having at that time Ignorant little knoledge of the machine however I always thought the Machine Might be applied to [more] other as valuable purposes [than] as drawing Water.

— James Watt

I had gone on a walk on a fine Sabbath afternoon. I had entered the Green [of Glasgow] by the gate at the foot of Charlotte Street—had passed the old washing-house. I was thinking upon the engine at the time, and had gone as far as the herd's house, when the idea came into my mind that as steam was an elastic body it would rush into a vacuum, and if a communication were made between the cylinder and an exhausted vessel it would rush into it, and might be there condensed without cooling the cylinder. I then saw that I must get rid of the condensed steam and injection water if I used a jet, as in Newcomen's engine. Two ways of doing this occurred to me. First, the water might be run off by a descending pipe, if an outlet could be got at the depth of 35 or 36 feet, and any air might be extracted by a small pump. The second was to make the pump large enough to extract both water and air. ... I had not walked further than the Golf-house when the whole thing was arranged in my mind.
[In Robert Hart's words, a recollection of the description of Watt's moment of inspiration, in May 1765, for improving Thomas Newcomen's steam engine.]

— James Watt

---
Quotes by others about James Watt (9)
I sell here, Sir, what all the world desires to have—POWER.
About the improved steam engine invented by James Watt and brought into production at Boulton's manufactory.

True greatness is when your name is like ampere, watt, and fourier—when it's spelled with a lower case letter.

For the birth of something new, there has to be a happening. Newton saw an apple fall; James Watt watched a kettle boil; Roentgen fogged some photographic plates. And these people knew enough to translate ordinary happenings into something new...

James Watt patented his steam engine on the eve of the American Revolution, consummating a relationship between coal and the new Promethean spirit of the age, and humanity made its first tentative steps into an industrial way of life that would, over the next two centuries, forever change the world.

I have been branded with folly and madness for attempting what the world calls impossibilities, and even from the great engineer, the late James Watt, who said ... that I deserved hanging for bringing into use the high-pressure engine. This has so far been my reward from the public; but should this be all, I shall be satisfied by the great secret pleasure and laudable pride that I feel in my own breast from having been the instrument of bringing forward new principles and new arrangements of boundless value to my country, and however much I may be straitened in pecuniary circumstances, the great honour of being a useful subject can never be taken from me, which far exceeds riches.

Coal … We may well call it black diamonds. Every basket is power and civilization; for coal is a portable climate. … Watt and Stephenson whispered in the ear of mankind their secret, that a half-ounce of coal will draw two tons a mile, and coal carries coal, by rail and by boat, to make Canada as warm as Calcutta, and with its comforts bring its industrial power.

In science its main worth is temporary, as a stepping-stone to something beyond. Even the Principia, as Newton with characteristic modesty entitled his great work, is truly but the beginning of a natural philosophy, and no more an ultimate work, than Watt's steam-engine, or Arkwright's spinning-machine.

Neither had Watt of the Steam engine a heroic origin, any kindred with the princes of this world. The princes of this world were shooting their partridges… While this man with blackened fingers, with grim brow, was searching out, in his workshop, the Fire-secret.

Those who consider James Watt only as a great practical mechanic form a very erroneous idea of his character: he was equally distinguished as a natural philosopher and a chemist, and his inventions demonstrate his profound knowledge of those sciences, and that peculiar characteristic of genius, the union of them for practical application.