Industrial Revolution Quotes (8 quotes)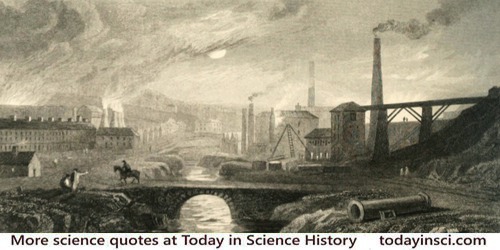 Ironworks, Nantyglo, Monmouthshire, South Wales c.1820
(source)
In the main, Bacon prophesied the direction of subsequent progress. But he "anticipated" the advance. He did not see that the new science was for a long time to be worked in the interest of old ends of human exploitation. He thought that it would rapidly give man new ends. Instead, it put at the disposal of a class the means to secure their old ends of aggrandizement at the expense of another class. The industrial revolution followed, as he foresaw, upon a revolution in scientific method. But it is taking the revolution many centuries to produce a new mind.

James Watt patented his steam engine on the eve of the American Revolution, consummating a relationship between coal and the new Promethean spirit of the age, and humanity made its first tentative steps into an industrial way of life that would, over the next two centuries, forever change the world.

Sooner or later in every talk, [David] Brower describes the creation of the world. He invites his listeners to consider the six days of Genesis as a figure of speech for what has in fact been 4 billion years. On this scale, one day equals something like six hundred and sixty-six million years, and thus, all day Monday and until Tuesday noon, creation was busy getting the world going. Life began Tuesday noon, and the beautiful organic wholeness of it developed over the next four days. At 4 p.m. Saturday, the big reptiles came on. At three minutes before midnight on the last day, man appeared. At one-fourth of a second before midnight Christ arrived. At one-fortieth of a second before midnight, the Industrial Revolution began. We are surrounded with people who think that what we have been doing for that one-fortieth of a second can go on indefinitely. They are considered normal, but they are stark. raving mad.

The development of science has produced an industrial revolution which has brought different peoples in such close contact with one another through colonization and commerce that no matter how some nations may still look down upon others, no country can harbor the illusion that its career is decided wholly within itself.

The Industrial Revolution as a whole was not designed. It took shape gradually as industrialists and engineers figured out how to make things. The result is that we put billions of pounds of toxic materials in the air, water and soil every year and generate gigantic amounts of waste. If our goal is to destroy the world—to produce global warming and toxicity and endocrine disruption—we're doing great.

The opening of a foreign trade, by making them acquainted with new objects, or tempting them by the easier acquisition of things which they had not previously thought attainable, sometimes works a sort of industrial revolution in a country whose resources were previously undeveloped for want of energy and ambition in the people; inducing those who were satisfied with scanty comforts and little work to work harder for the gratification of their new tastes, and even to save, and accumulate capital, for the still more complete satisfaction of those tastes at a future time.

Those who came before us made certain that this country rode the first waves of the industrial revolution, the first waves of modern invention, and the first wave of nuclear power, and this generation does not intend to founder in the backwash of the coming age of space. We mean to be a part of it—we mean to lead it.

To produce any given motion, to spin a certain weight of cotton, or weave any quantity of linen, there is required steam; to produce the steam, fuel; and thus the price of fuel regulates effectively the cost of mechanical power. Abundance and cheapness of fuel are hence main ingredients in industrial success. It is for this reason that in England the active manufacturing districts mark, almost with geological accuracy, the limits of the coal fields.