Weave Quotes (11 quotes)
Every year the inventions of science weave more inextricably the web that binds man to man, group to group, nation to nation.

Geologists on the whole are inconsistent drivers. When a roadcut presents itself, they tend to lurch and weave. To them, the roadcut is a portal, a fragment of a regional story, a proscenium arch that leads their imaginations into the earth and through the surrounding terrane.

I do not know if God is a mathematician, but mathematics is the loom on which God weaves the universe.

Mother of all the sciences, it [mathematics] is a builder of the imagination, a weaver of patterns of sheer thought, an intuitive dreamer, a poet.

Mr. Bertrand Russell tells us that it can be shown that a mathematical web of some kind can be woven about any universe containing several objects. If this be so, then the fact that our universe lends itself to mathematical treatment is not a fact of any great philosophical significance.

The brain is waking and with it the mind is returning. It is as if the Milky Way entered upon some cosmic dance. Swiftly the head-mass becomes an enchanted loom where millions of flashing shuttles weave a dissolving pattern, always a meaningful pattern though never an abiding one.

The earth does not belong to us; we belong to the earth. All things are connected, like the blood which unites one family. Mankind did not weave the web of life. We are but one strand within it. Whatever we do to the web, we do to ourselves.

The full story of successful organ transplantation in man weaves together three separate pathways: the study of renal disease, skin grafting in twins, and surgical determination. A leitmotif permeates each of these pathways, i.e. a single event or report was critical for medical progress.

The truly awesome intellectuals in our history have not merely made discoveries; they have woven variegated, but firm, tapestries of comprehensive coverage. The tapestries have various fates: Most burn or unravel in the foot steps of time and the fires of later discovery. But their glory lies in their integrity as unified structures of great complexity and broad implication.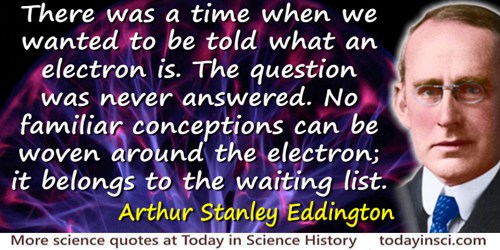 Background image credit: Lu Viatour, www.lucnix.be
(source)
There was a time when we wanted to be told what an electron is. The question was never answered. No familiar conceptions can be woven around the electron; it belongs to the waiting list.

Those afraid of the universe as it really is, those who pretend to nonexistent knowledge and envision a Cosmos centered on human beings will prefer the fleeting comforts of superstition. They avoid rather than confront the world. But those with the courage to explore the weave and structure of the Cosmos, even where it differs profoundly from their wishes and prejudices, will penetrate its deepest mysteries.