(source)

William McDonough

(21 Feb 1951 - )




Science Quotes by William McDonough
(15 quotes)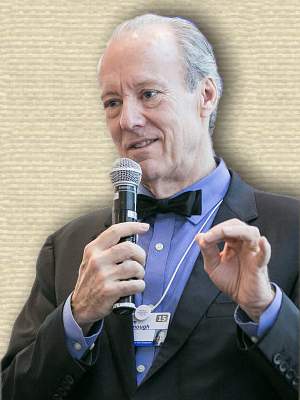 "Cradle to Cradle" is in counterpoint to "Cradle to Grave." It basically says that if we look at everything as a take, make and waste system, then it's a one-way system. Whereas If we think about things having multiple lives, cradle to cradle, we could design things that can go back to either nature or back to industry forever.

— William McDonough

Before we talk about ecosystem design, we have to talk about ego-system management.

— William McDonough

Change requires experimentation. But no problem can be solved by the same consciousness that created it. Our job is to dream—and to make those dreams happen.

— William McDonough

I grew up in Japan and Hong Kong and then came to the States. Japan was a huge influence on me because, as a child, I would hear the oxcarts come and collect our sewage at night out of our house from the latrine and then take it off to the farms as fertilizer. And then the food would come back in oxcarts during the day. I always had this sort of "our poop became food" mental model. The idea of "waste equals food" was pretty inculcated, that everything was precious and the systems were coherent and cyclical.

— William McDonough

I love nuclear energy. I just want to make sure it stays where God put it—93 million miles away, in the sun.

— William McDonough

I'm sick of people thinking that efficiency is going to be sufficient. I'm sick of seeing people say, "I'm going to reduce my carbon footprint," and think that being less bad is being good. … I want healthy, safe things in closed cycles, not just being less bad.

— William McDonough

If coal plants release mercury—and mercury is a neurotoxin that damages children's brains—then reducing the amount of mercury in emissions doesn't stop that. It just says, "We'll tell you at what rate you can dispense death."

— William McDonough

If you look at a tree and think of it as a design assignment, it would be like asking you to make something that makes oxygen, sequesters carbon, fixes nitrogen, distills water, provides habitat for hundreds of species, accrues solar energy's fuel, makes complex sugars and food, changes colors with the seasons, creates microclimates, and self-replicates.

— William McDonough

In design, people like Buckminster Fuller amazed me at the levels at which he could think. He could think molecularly. And he could think at the almost galactic scale. And the idea that somebody could actually talk about molecules and talk about buildings and structures and talk about space just amazed me. As I get older–I'll be 60 next year–what I've discovered is that I find myself in those three realms too.

— William McDonough

It took us five thousand years to put wheels on our luggage, so we're not that smart as a design species.

— William McDonough

Most manufacturers take resources out of the ground and convert them to products that are designed to be thrown away or incinerated within months. We call these "cradle to grave" product flows. Our answer to that is "cradle to cradle" design. Everything is reused—either returned to the soil as nontoxic "biological nutrients" that will biodegrade safely, or returned to industry as "technical nutrients" that can be infinitely recycled.

— William McDonough

The Industrial Revolution as a whole was not designed. It took shape gradually as industrialists and engineers figured out how to make things. The result is that we put billions of pounds of toxic materials in the air, water and soil every year and generate gigantic amounts of waste. If our goal is to destroy the world—to produce global warming and toxicity and endocrine disruption—we're doing great.

— William McDonough

The Stone Age did not end because humans ran out of stones. It ended because it was time for a re-think about how we live.

— William McDonough

There's probably 5000 times more solar energy than the humans will ever need. We could cover our highways with solar collectors to make ribbons of energy, and I think that it's really the largest job creation program in the history of the planet that's in front of us. It's a celebration of the abundance of human creativity combined with the abundance of the natural world.

— William McDonough

What we call recycling is typically the product losing its quality. Paper gets mixed with other papers, re-chlorinated and contaminated with toxic inks. The fiber length gets shorter…and you end up with gray, fuzzy stuff that doesn't really work for you. That's downcycling. Michael Braungart and I coined the term upcycling, meaning that the product could actually get better as it comes through the system.

— William McDonough

See also:
21 Feb - short biography, births, deaths and events on date of McDonough's birth.
Cradle to Cradle: Remaking the Way We Make Things, by Michael Braungart and William McDonough. - book suggestion.
Booklist for William McDonough.