(source)

Baron Jean-Baptiste-Joseph Fourier

(21 Mar 1768 - 16 May 1830)




Science Quotes by Baron Jean-Baptiste-Joseph Fourier
(9 quotes)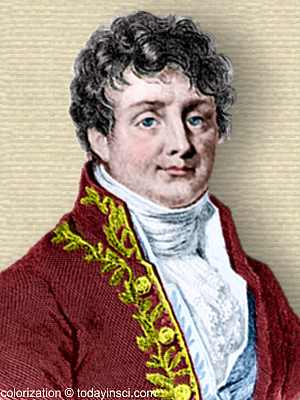 Il ne peut y avoir de langage plus universel et plus simple, plus exempt d'erreurs et d'obscurités, c'est-à-dire plus digne d'exprimer les rapports invariables des êtres naturels.
There cannot be a language more universal and more simple, more free from errors and obscurities, … more worthy to express the invariable relations of all natural things. [About mathematical analysis.]

— Baron Jean-Baptiste-Joseph Fourier

La chaleur pénètre, comme la gravité, toutes les substances de l'univers, ses rayons occupent toutes les parties de l'espace. Le but de notre ouvrage est d'exposer les lois mathématiques que suit cet élément. Cette théorie formera désormais une des branches les plus importantes de la physique générale.
Heat, like gravity, penetrates every substance of the universe, its rays occupy all parts of space. The object of our work is to set forth the mathematical laws which this element obeys. The theory of heat will hereafter form one of the most important branches of general physics.

— Baron Jean-Baptiste-Joseph Fourier

Les causes primordiales ne nous sont point connues; mais elles sont assujetties à des lois simples et constantes, que l'on peut découvrir par l'observation, et dont l'étude est l'objet de la philosophie naturelle.
Primary causes are unknown to us; but are subject to simple and constant laws, which may be discovered by observation, the study of them being the object of natural philosophy.

— Baron Jean-Baptiste-Joseph Fourier

L'analyse mathématique est aussi étendue que la nature elle-même; elle définit tous les rapports sensibles, mesure les temps y les espaces, les forces, les températures; cette science difficile se forme avec lenteur, mais elle conserve tous les principes quelle a une fois acquis; elle s'accroît et s'affermit sans cesse au milieu de tant de variations et d'erreurs de l'esprit humain.
Mathematical analysis is as extensive as nature itself; it defines all perceptible relations, measures times, spaces, forces, temperatures; this difficult science is formed slowly, but it preserves every principle which it has once acquired; it grows and strengthens itself incessantly in the midst of the many variations and errors of the human mind.

— Baron Jean-Baptiste-Joseph Fourier

L'analyse mathématique … dans l'étude de tous les phénomènes; elle les interprète par le même langage, comme pour attester l'unité et la simplicité du plan de l'univers, et rendre encore plus manifeste cet ordre immuable qui préside à toutes les causes naturelles.
Mathematical analysis … in the study of all phenomena, interprets them by the same language, as if to attest the unity and simplicity of the plan of the universe, and to make still more evident that unchangeable order which presides over all natural causes.

— Baron Jean-Baptiste-Joseph Fourier

Une même expression, dont les géomètres avaient considéré les propriétés abstraites, … représente'aussi le mouvement de la lumière dans l'atmosphère, quelle détermine les lois de la diffusion de la chaleur dans la matière solide, et quelle entre dans toutes les questions principales de la théorie des probabilités.
The same expression whose abstract properties geometers had considered … represents as well the motion of light in the atmosphere, as it determines the laws of diffusion of heat in solid matter, and enters into all the chief problems of the theory of probability.

— Baron Jean-Baptiste-Joseph Fourier

The deep study of nature is the most fruitful source of mathematical discoveries. By offering to research a definite end, this study has the advantage of excluding vague questions and useless calculations; besides it is a sure means of forming analysis itself and of discovering the elements which it most concerns us to know, and which natural science ought always to conserve.

— Baron Jean-Baptiste-Joseph Fourier

The integrals which we have obtained are not only general expressions which satisfy the differential equation, they represent in the most distinct manner the natural effect which is the object of the phenomenon… when this condition is fulfilled, the integral is, properly speaking, the equation of the phenomenon; it expresses clearly the character and progress of it, in the same manner as the finite equation of a line or curved surface makes known all the properties of those forms.

— Baron Jean-Baptiste-Joseph Fourier

There could not be a language more universal and more simple, more exempt from errors and obscurities, that is to say, more worthy of expressing the invariable relations of natural objects. Considered from this point of view, it is coextensive with nature itself; it defines all the sensible relations, measures the times, the spaces, the forces, the temperatures; this difficult science is formed slowly, but it retains all the principles it has once acquired. It grows and becomes more certain without limit in the midst of so many errors of the human mind.

— Baron Jean-Baptiste-Joseph Fourier

---
Quotes by others about Baron Jean-Baptiste-Joseph Fourier (4)
Derrière la série de Fourier, d'autres séries analogues sont entrées dans la domaine de l'analyse; elles y sont entrées par la même porte; elles ont été imaginées en vue des applications.
After the Fourier series, other series have entered the domain of analysis; they entered by the same door; they have been imagined in view of applications.

[Referring to Fourier's mathematical theory of the conduction of heat] … Fourier's great mathematical poem…

True greatness is when your name is like ampere, watt, and fourier—when it's spelled with a lower case letter.

It is true that Fourier had the opinion that the principal end of mathematics was public utility and the explanation of natural phenomena; but a philosopher as he is should have known that the unique end of science is the honor of the human mind and that from this point of view a question of [the theory of] number is as important as a question of the system of the world.