Phonograph Quotes (8 quotes)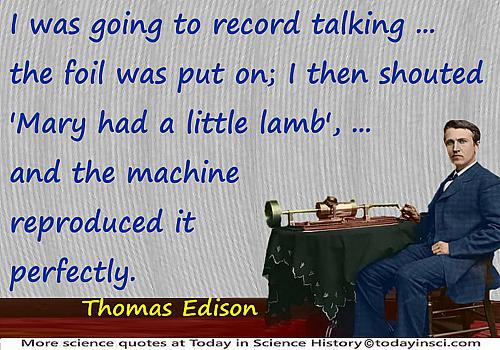 I told [Kruesi] I was going to record talking, and then have the machine talk back. He thought it absurd. However, it was finished, the foil was put on; I then shouted "Mary had a little lamb," etc. I adjusted the reproducer, and the machine reproduced it perfectly.
On first words spoken on a phonograph.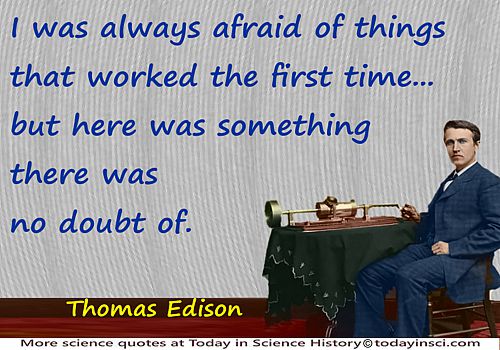 I was always afraid of things that worked the first time. Long experience proved that there were great drawbacks found generally before they could be got commercial; but here was something there was no doubt of.
[Recalling astonishment when his tin-foil cylinder phonograph first played back his voice recording of "Mary had a little lamb."]

It usually takes me from five to seven years to perfect a thing. Some things I have been working on for twenty-five years—and some of them are still unsolved. My average would be about seven years. The incandescent light was the hardest one of all: it took many years not only of concentrated thought but also of world-wide research. The storage battery took eight years. It took even longer to perfect the phonograph.

Many inventions are not suitable for the people at large because of their carelessness. Before a thing can be marketed to the masses, it must be made practically fool-proof. Its operation must be made extremely simple. That is one reason, I think, why the phonograph has been so universally adopted. Even a child can operate it. … Another reason is that people are far more willing to pay for being amused than for anything else.

Mr. Thomas A. Edison recently came into this office, placed a little machine on our desk, turned a crank, and the machine enquired as to our health, asked how we liked the phonograph, informed us that it was well, and bid us a cordial good night. These remarks were not only perfectly audible to ourselves, but to a dozen or more persons gathered around.

Of all my inventions, I liked the phonograph best. Life's most soothing things are sweet music and a child's goodnight.

PHONOGRAPH, n. An irritating toy that restores life to dead noises

Which do I consider my greatest invention? … I like the phonograph best … because I love music. And then it has brought so much joy into millions of homes all over this country, and, indeed, all over the world.