Initial Quotes (13 quotes)
A quarter-horse jockey learns to think of a twenty-second race as if it were occurring across twenty minutes—in distinct parts, spaced in his consciousness. Each nuance of the ride comes to him as he builds his race. If you can do the opposite with deep time, living in it and thinking in it until the large numbers settle into place, you can sense how swiftly the initial earth packed itself together, how swiftly continents have assembled and come apart, how far and rapidly continents travel, how quickly mountains rise and how quickly they disintegrate and disappear.

A very small cause which escapes our notice determines a considerable effect that we cannot fail to see, and then we say that the effect is due to chance. If we knew exactly the laws of nature and the situation of the universe at the initial moment, we could predict exactly the situation of that same universe at a succeeding moment.

An indispensable hypothesis, even though still far from being a guarantee of success, is however the pursuit of a specific aim, whose lighted beacon, even by initial failures, is not betrayed.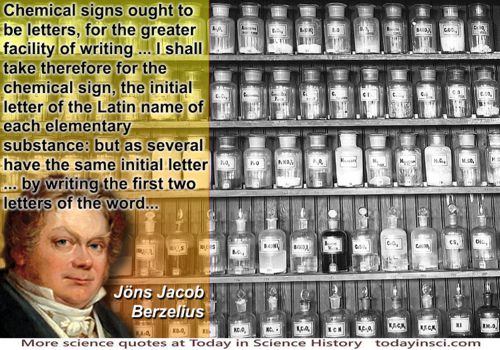 Laboratory chemicals shelf at Miami University (1911)
(source)
Chemical signs ought to be letters, for the greater facility of writing, and not to disfigure a printed book ... I shall take therefore for the chemical sign, the initial letter of the Latin name of each elementary substance: but as several have the same initial letter, I shall distinguish them in the following manner:— 1. In the class which I shall call metalloids, I shall employ the initial letter only, even when this letter is common to the metalloid and to some metal. 2. In the class of metals, I shall distinguish those that have the same initials with another metal, or a metalloid, by writing the first two letters of the word. 3. If the first two letters be common to two metals, I shall, in that case, add to the initial letter the first consonant which they have not in common: for example, S = sulphur, Si = silicium, St = stibium (antimony), Sn = stannum (tin), C = carbonicum, Co = colbaltum (colbalt), Cu = cuprum (copper), O = oxygen, Os = osmium, &c.

Each of the major sciences has contributed an essential ingredient in our long retreat from an initial belief in our own cosmic importance. Astronomy defined our home as a small planet tucked away in one corner of an average galaxy among millions; biology took away our status as paragons created in the image of God; geology gave us the immensity of time and taught us how little of it our own species has occupied.

I am terribly proud of—I was born in Cambridge in 1952 and my initials are DNA!

I think I've had more failures than successes, but I don't see the failures as mistakes because I always learned something from those experiences. I see them as having not achieved the initial goal, nothing more than that.

Let us now discuss the extent of the mathematical quality in Nature. According to the mechanistic scheme of physics or to its relativistic modification, one needs for the complete description of the universe not merely a complete system of equations of motion, but also a complete set of initial conditions, and it is only to the former of these that mathematical theories apply. The latter are considered to be not amenable to theoretical treatment and to be determinable only from observation.

Speaking of libraries: A big open-stack academic or public library is no small pleasure to work in. You're, say, trying to do a piece on something in Nevada, and you go down to C Floor, deep in the earth, and out to what a miner would call a remote working face. You find 10995.497S just where the card catalog and the online computer thought it would be, but that is only the initial nick. The book you knew about has led you to others you did not know about. To the ceiling the shelves are loaded with books about Nevada. You pull them down, one at a time, and sit on the floor and look them over until you are sitting on a pile five feet high, at which point you are late home for dinner and you get up and walk away. It's an incomparable boon to research, all that; but it is also a reason why there are almost no large open-stack libraries left in the world.

The divine tape recorder holds a million scenarios, each perfectly sensible. Little quirks at the outset, occurring for no particular reason, unleash cascades of consequences that make a particular feature seem inevitable in retrospect. But the slightest early nudge contacts a different groove, and history veers into another plausible channel, diverging continually from its original pathway. The end results are so different, the initial perturbation so apparently trivial.

The great difference between science and technology is a difference of initial attitude. The scientific man follows his method whithersoever it may take him. He seeks acquaintance with his subject­matter, and he does not at all care about what he shall find, what shall be the content of his knowledge when acquaintance-with is transformed into knowledge-about. The technologist moves in another universe; he seeks the attainment of some determinate end, which is his sole and obsessing care; and he therefore takes no heed of anything that he cannot put to use as means toward that end.

This fundamental discovery that all bodies owe their origin to arrangements of single initial corpuscular type is the beacon that lights the history of the universe to our eyes. In its own way, matter obeyed from the beginning that great law of biology to which we shall have to recur time and time again, the law of "complexification."

When one begins to speak of something it sounds plausible, but when we reflect on it we find it false. The initial impression a thing makes on my mind is very important. Taking an overall view of a thing the mind sees every side of it obscurely, which is often of more value than a clear idea of only one side of it.