Plausibility Quotes (7 quotes)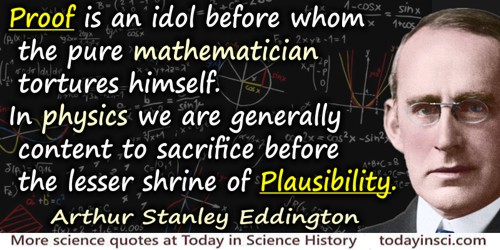 Proof is an idol before whom the pure mathematician tortures himself. In physics we are generally content to sacrifice before the lesser shrine of Plausibility.

PROOF, n. Evidence having a shade more of plausibility than of unlikelihood. The testimony of two credible witnesses as opposed to that of only one.

Science deals with judgments on which it is possible to obtain universal agreement. These judgments do not concern individual facts and events, but the invariable association of facts and events known as the laws of science. Agreement is secured by observation and experiment—impartial courts of appeal to which all men must submit if they wish to survive. The laws are grouped and explained by theories of ever increasing generality. The theories at first are ex post facto—merely plausible interpretations of existing bodies of data. However, they frequently lead to predictions that can be tested by experiments and observations in new fields, and, if the interpretations are verified, the theories are accepted as working hypotheses until they prove untenable. The essential requirements are agreement on the subject matter and the verification of predictions. These features insure a body of positive knowledge that can be transmitted from person to person, and that accumulates from generation to generation.

The aim of poetry is to give a high and voluptuous plausibility to what is palpably not true. I offer the Twenty-third Psalm as an example: 'The Lord is my shepherd: I shall not want.' It is immensely esteemed by the inmates of almshouses, and by gentlemen waiting to be hanged. I have to limit my own reading of it, avoiding soft and yielding moods, for I too, in my way, am a gentleman waiting to be hanged, as you are.

The discovery of an interaction among the four hemes made it obvious that they must be touching, but in science what is obvious is not necessarily true. When the structure of hemoglobin was finally solved, the hemes were found to lie in isolated pockets on the surface of the subunits. Without contact between them how could one of them sense whether the others had combined with oxygen? And how could as heterogeneous a collection of chemical agents as protons, chloride ions, carbon dioxide, and diphosphoglycerate influence the oxygen equilibrium curve in a similar way? It did not seem plausible that any of them could bind directly to the hemes or that all of them could bind at any other common site, although there again it turned out we were wrong. To add to the mystery, none of these agents affected the oxygen equilibrium of myoglobin or of isolated subunits of hemoglobin. We now know that all the cooperative effects disappear if the hemoglobin molecule is merely split in half, but this vital clue was missed. Like Agatha Christie, Nature kept it to the last to make the story more exciting. There are two ways out of an impasse in science: to experiment or to think. By temperament, perhaps, I experimented, whereas Jacques Monod thought.

The idea of a method that contains firm, unchanging, and absolutely binding principles for conducting the business of science meets considerable difficulty when confronted with the results of historical research. We find, then, that there is not a single rule, however plausible, and however firmly grounded in epistemology, that is not violated at some time or another.

When one begins to speak of something it sounds plausible, but when we reflect on it we find it false. The initial impression a thing makes on my mind is very important. Taking an overall view of a thing the mind sees every side of it obscurely, which is often of more value than a clear idea of only one side of it.