Shrine Quotes (8 quotes)
The Redwoods

Here, sown by the Creator's hand,
In serried ranks, the Redwoods stand;
No other clime is honored so,
No other lands their glory know.

The greatest of Earth's living forms,
Tall conquerors that laugh at storms;
Their challenge still unanswered rings,
Through fifty centuries of kings.

The nations that with them were young,
Rich empires, with their forts far-flung,
Lie buried now—their splendor gone;
But these proud monarchs still live on.

So shall they live, when ends our day,
When our crude citadels decay;
For brief the years allotted man,
But infinite perennials' span.

This is their temple, vaulted high,
And here we pause with reverent eye,
With silent tongue and awe-struck soul;
For here we sense life's proper goal;

To be like these, straight, true and fine,
To make our world, like theirs, a shrine;
Sink down, oh traveler, on your knees,
God stands before you in these trees.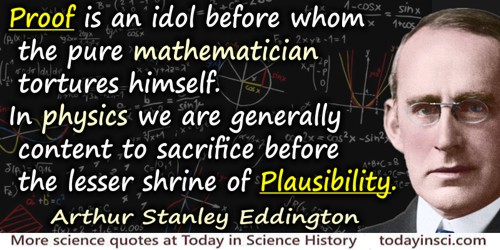 Proof is an idol before whom the pure mathematician tortures himself. In physics we are generally content to sacrifice before the lesser shrine of Plausibility.

As pilgrimages to the shrines of saints draw thousands of English Catholics to the Continent, there may be some persons in the British Islands sufficiently in love with science, not only to revere the memory of its founders, but to wish for a description of the locality and birth-place of a great master of knowledge—John Dalton—who did more for the world's civilisation than all the reputed saints in Christendom.

I think at the moment we did not even want to break the seal [on the inner chamber of the tomb of Tutankhamen], for a feeling of intrusion had descended heavily upon us... We felt that we were in the presence of the dead King and must do him reverence, and in imagination could see the doors of the successive shrines open one.

It so happens that the work which is likely to be our most durable monument, and to convey some knowledge of us to the most remote posterity, is a work of bare utility; not a shrine, not a fortress, not a palace, but a bridge.
Writing upon the opening of the Brooklyn Bridge, New York.

Philosophy dwells aloft in the Temple of Science, the divinity of its inmost shrine; her dictates descend among men, but she herself descends not : whoso would behold her must climb with long and laborious effort, nay, still linger in the forecourt, till manifold trial have proved him worthy of admission into the interior solemnities.

The cold chaste Moon, the Queen of Heaven's bright isles,
Who makes all beautiful on which she smiles!
That wandering shrine of soft, yet icy flame,
Which ever is transformed yet still the same,
And warms, but not illumines.

The forest is my loyal friend
A Delphic shrine to me.