Conqueror Quotes (8 quotes)
The Redwoods

Here, sown by the Creator's hand,
In serried ranks, the Redwoods stand;
No other clime is honored so,
No other lands their glory know.

The greatest of Earth's living forms,
Tall conquerors that laugh at storms;
Their challenge still unanswered rings,
Through fifty centuries of kings.

The nations that with them were young,
Rich empires, with their forts far-flung,
Lie buried now—their splendor gone;
But these proud monarchs still live on.

So shall they live, when ends our day,
When our crude citadels decay;
For brief the years allotted man,
But infinite perennials' span.

This is their temple, vaulted high,
And here we pause with reverent eye,
With silent tongue and awe-struck soul;
For here we sense life's proper goal;

To be like these, straight, true and fine,
To make our world, like theirs, a shrine;
Sink down, oh traveler, on your knees,
God stands before you in these trees.

Between the frontiers of the three super-states Eurasia, Oceania, and Eastasia, and not permanently in possession of any of them, there lies a rough quadrilateral with its corners at Tangier, Brazzaville, Darwin, and Hongkong. These territories contain a bottomless reserve of cheap labour. Whichever power controls equatorial Africa, or the Middle East or Southern India or the Indonesian Archipelago, disposes also of the bodies of hundreds of millions of ill-paid and hardworking coolies, expended by their conquerors like so much coal or oil in the race to turn out more armaments, to capture more territory, to control more labour, to turn out more armaments, to capture more territory, to control…
Thus George Orwell—in his only reference to the less-developed world.
I wish I could disagree with him. Orwell may have erred in not anticipating the withering of direct colonial controls within the "quadrilateral" he speaks about; he may not quite have gauged the vehemence of urges to political self-assertion. Nor, dare I hope, was he right in the sombre picture of conscious and heartless exploitation he has painted. But he did not err in predicting persisting poverty and hunger and overcrowding in 1984 among the less privileged nations.
I would like to live to regret my words but twenty years from now, I am positive, the less-developed world will be as hungry, as relatively undeveloped, and as desperately poor, as today.

On tue un homme, on est un assassin. On tue des millions d'hommes, on est un conquérant. On les tue tous, on est un dieu.
Kill a man, and you are an assassin. Kill millions of men and you are a conqueror. Kill everyone, and you are a god.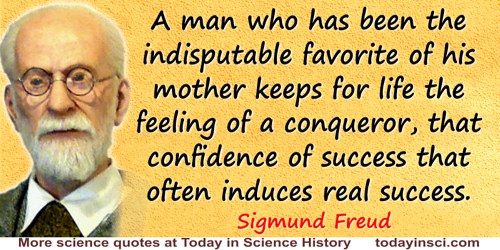 A man who has been the indisputable favorite of his mother keeps for life the feeling of a conqueror, that confidence of success that often induces real success.

At times the mathematician has the passion of a poet or a conqueror, the rigor of his arguments is that of a responsible statesman or, more simply, of a concerned father, and his tolerance and resignation are those of an old sage; he is revolutionary and conservative, skeptical and yet faithfully optimistic.

It is not knowledge, but the act of learning, not possession but the act of getting there, which grants the greatest enjoyment. When I have clarified and exhausted a subject, then I turn away from it, in order to go into darkness again; the never-satisfied man is so strange if he has completed a structure, then it is not in order to dwell in it peacefully,but in order to begin another. I imagine the world conqueror must feel thus, who, after one kingdom is scarcely conquered, stretches out his arms for others.

The man who has grit enough to bring about the afforestation or the irrigation of a country is not less worthy of honor than its conqueror.

Who would not rather have the fame of Archimedes than that of his conqueror Marcellus?