Conqueror Quotes (6 quotes)
The Redwoods

Here, sown by the Creator's hand,
In serried ranks, the Redwoods stand;
No other clime is honored so,
No other lands their glory know.

The greatest of Earth's living forms,
Tall conquerors that laugh at storms;
Their challenge still unanswered rings,
Through fifty centuries of kings.

The nations that with them were young,
Rich empires, with their forts far-flung,
Lie buried now—their splendor gone;
But these proud monarchs still live on.

So shall they live, when ends our day,
When our crude citadels decay;
For brief the years allotted man,
But infinite perennials' span.

This is their temple, vaulted high,
And here we pause with reverent eye,
With silent tongue and awe-struck soul;
For here we sense life's proper goal;

To be like these, straight, true and fine,
To make our world, like theirs, a shrine;
Sink down, oh traveler, on your knees,
God stands before you in these trees.

On tue un homme, on est un assassin. On tue des millions d'hommes, on est un conquιrant. On les tue tous, on est un dieu.
Kill a man, and you are an assassin. Kill millions of men and you are a conqueror. Kill everyone, and you are a god.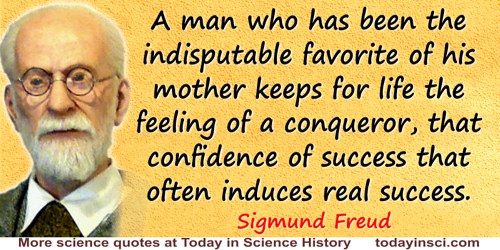 A man who has been the indisputable favorite of his mother keeps for life the feeling of a conqueror, that confidence of success that often induces real success.

At times the mathematician has the passion of a poet or a conqueror, the rigor of his arguments is that of a responsible statesman or, more simply, of a concerned father, and his tolerance and resignation are those of an old sage; he is revolutionary and conservative, skeptical and yet faithfully optimistic.

The man who has grit enough to bring about the afforestation or the irrigation of a country is not less worthy of honor than its conqueror.

Who would not rather have the fame of Archimedes than that of his conqueror Marcellus?