Reef Quotes (7 quotes)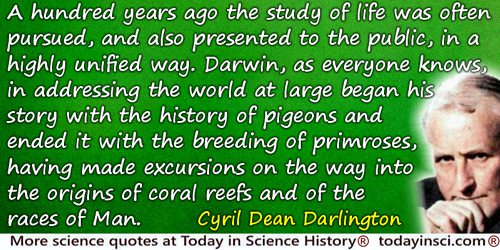 A hundred years ago the study of life was often pursued, and also presented to the public, in a highly unified way. Darwin, as everyone knows, in addressing the world at large began his story with the history of pigeons and ended it with the breeding of primroses, having made excursions on the way into the origins of coral reefs and of the races of Man.

A new era of ocean exploration can yield discoveries that will help inform everything from critical medical advances to sustainable forms of energy. Consider that AZT, an early treatment for HIV, is derived from a Caribbean reef sponge, or that a great deal of energy—from offshore wind, to OTEC (ocean thermal energy conservation), to wind and wave energy—is yet untapped in our oceans.

Behind every man's busy-ness there should be a level of undisturbed serenity and industry, as within the reef encircling a coral isle there is always an expanse of still water, where the depositions are going on which will finally raise it above the surface.

Science has gone down into the mines and coal-pits, and before the safety-lamp the Gnomes and Genii of those dark regions have disappeared… Sirens, mermaids, shining cities glittering at the bottom of quiet seas and in deep lakes, exist no longer; but in their place, Science, their destroyer, shows us whole coasts of coral reef constructed by the labours of minute creatures; points to our own chalk cliffs and limestone rocks as made of the dust of myriads of generations of infinitesimal beings that have passed away; reduces the very element of water into its constituent airs, and re-creates it at her pleasure.

Some writers, rejecting the idea which science had reached, that reefs of rocks could be due in any way to "animalcules," have talked of electrical forces, the first and last appeal of ignorance.

The theory which I would offer, is simply, that as the land with the attached reefs subsides very gradually from the action of subterranean causes, the coral-building polypi soon raise again their solid masses to the level of the water: but not so with the land; each inch lost is irreclaimably gone; as the whole gradually sinks, the water gains foot by foot on the shore, till the last and highest peak is finally submerged.

There is one great difficulty with a good hypothesis. When it is completed and rounded, the corners smooth and the content cohesive and coherent, it is likely to become a thing in itself, a work of art. It is then like a finished sonnet or a painting completed. One hates to disturb it. Even if subsequent information should shoot a hole in it, one hates to tear it down because it once was beautiful and whole. One of our leading scientists, having reasoned a reef in the Pacific, was unable for a long time to reconcile the lack of a reef, indicated by soundings, with the reef his mind told him was there.