(source)

Cyril Dean Darlington

(19 Dec 1903 - 26 Mar 1981)




Science Quotes by Cyril Dean Darlington
(6 quotes)
A hundred years ago … an engineer, Herbert Spencer, was willing to expound every aspect of life, with an effect on his admiring readers which has not worn off today.
Things do not happen quite in this way nowadays. This, we are told, is an age of specialists. The pursuit of knowledge has become a profession. The time when a man could master several sciences is past. He must now, they say, put all his efforts into one subject. And presumably, he must get all his ideas from this one subject. The world, to be sure, needs men who will follow such a rule with enthusiasm. It needs the greatest numbers of the ablest technicians. But apart from them it also needs men who will converse and think and even work in more than one science and know how to combine or connect them. Such men, I believe, are still to be found today. They are still as glad to exchange ideas as they have been in the past. But we cannot say that our way of life is well-fitted to help them. Why is this?

— Cyril Dean Darlington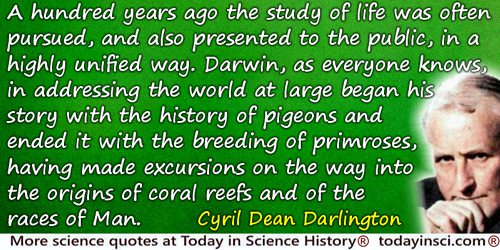 A hundred years ago the study of life was often pursued, and also presented to the public, in a highly unified way. Darwin, as everyone knows, in addressing the world at large began his story with the history of pigeons and ended it with the breeding of primroses, having made excursions on the way into the origins of coral reefs and of the races of Man.

— Cyril Dean Darlington

A large proportion of mankind, like pigeons and partridges, on reaching maturity, having passed through a period of playfulness or promiscuity, establish what they hope and expect will be a permanent and fertile mating relationship. This we call marriage.

— Cyril Dean Darlington

Cell genetics led us to investigate cell mechanics. Cell mechanics now compels us to infer the structures underlying it. In seeking the mechanism of heredity and variation we are thus discovering the molecular basis of growth and reproduction. The theory of the cell revealed the unity of living processes; the study of the cell is beginning to reveal their physical foundations.

— Cyril Dean Darlington

The instinct for collecting, which began as in other animals as an adaptive property, could always in man spread beyond reason; it could become a hoarding mania. But in its normal form it provides a means of livelihood at the hunting and collecting stage of human evolution. It is then attached to a variety of rational aptitudes, above all in observing, classifying, and naming plants, animals and minerals, skills diversely displayed by primitive peoples. These skills with an instinctive beginning were the foundation of most of the civilised arts and sciences. Attached to other skills in advanced societies they promote the formation of museums and libraries; detached, they lead to acquisition and classification by eccentric individuals, often without any purpose or value at all.

— Cyril Dean Darlington

We are now witnessing, after the slow fermentation of fifty years, a concentration of technical power aimed at the essential determinants of heredity, development and disease. This concentration is made possible by the common function of nucleic acids as the molecular midwife of all reproductive particles. Indeed it is the nucleic acids which, in spite of their chemical obscurity, are giving to biology a unity which has so far been lacking, a chemical unity.

— Cyril Dean Darlington