Fertile Quotes (12 quotes)
Ut ager quamvis fertilis sine cultura fructuosus esse non potest, sic sine doctrina animus.
A mind without instruction can no more bear fruit than can a field, however fertile, without cultivation.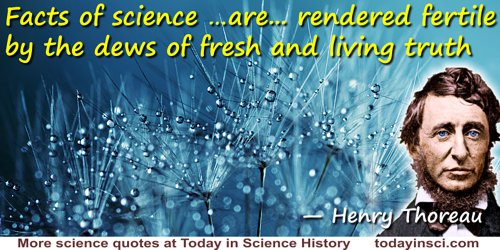 photo credit: Inspired Images CC0
(source)
Even the facts of science may dust the mind by their dryness, unless they are … rendered fertile by the dews of fresh and living truth. Knowledge does not come to us by details, but in flashes of light from heaven.

Fertile soil, level plains, easy passage across the mountains, coal, iron, and other metals imbedded in the rocks, and a stimulating climate, all shower their blessings upon man.

In nature hybrid species are usually sterile, but in science the reverse is often true. Hybrid subjects are often astonishingly fertile, whereas if a scientific discipline remains too pure it usually wilts.

It is usually not recognized that for every injurious or parasitic microbe there are dozens of beneficial ones. Without the latter, there would be no bread to eat nor wine to drink, no fertile soils and no potable waters, no clothing and no sanitation. One can visualize no form of higher life without the existence of the microbes. They are the universal scavengers. They keep in constant circulation the chemical elements which are so essential to the continuation of plant and animal life.

Modern war, even from the consideration of physical welfare, is not creative. Soldiers and civilians alike are supposed to put on mental khaki. … War means the death of that fertile war which consists of the free, restless conflict of ideas. The war which matters is that of the scientist with nature; of the farmer with the tawny desert; of … philosopher against … mob stupidity. Such war is creative. … Inventions that further life and joy; freedom; new knowledge, whether Luther Burbank's about the breeding of fruits or Einstein's about relativity; great cathedrals and Beethoven's music: these modern mechanical war can destroy but never produce. At its most inventive height, war creates the Maxim gun, the submarine, disseminable germs of disease, life-blasting gases. Spiritually and intellectually, modern war is not creative.

Remind me that the most fertile lands were built by the fires of volcanoes.

The Earth obey'd and straight
Op'ning her fertile womb, teem'd at a birth Innumerous living creatures, perfect forms,
Limb'd and full grown.

The hypothetical character of continual creation has been pointed out, but why is it more of a hypothesis to say that creation is taking place now than that it took place in the past? On the contrary, the hypothesis of continual creation is more fertile in that it answers more questions and yields more results, and results that are, at least in principle, observable. To push the entire question of creation into the past is to restrict science to a discussion of what happened after creation while forbidding it to examine creation itself. This is a counsel of despair to be taken only if everything else fails.

The ruthless destruction of their forests by the Chinese is one of the reasons why famine and plague today hold this nation in their sinister grasp. Denudation, wherever practiced, leaves naked soil; floods and erosion follow, and when the soil is gone men must also go—and the process does not take long. The great plains of Eastern China were centuries ago transformed from forest into agricultural land. The mountain plateau of Central China have also within a few hundred years been utterly devastated of tree growth, and no attempt made at either natural or artificial reforestation. As a result, the water rushes off the naked slopes in veritable floods, gullying away the mountain sides, causing rivers to run muddy with yellow soil, and carrying enormous masses of fertile earth to the sea. Water courses have also changed; rivers become uncontrollable, and the water level of the country is lowered perceptibly. In consequence, the unfortunate people see their crops wither and die for lack of water when it is most needed.

The so-called 'crank' may be quite original in his ideas. … Invention, however, in the engineering sense involves originality; but not that alone, if the results are to be of value. There is imagination more or less fertile, but with it a knowledge of what has been done before, carried perhaps by the memory, together with a sense of the present or prospective needs in art or industry. Necessity is not always the mother of invention. It may be prevision.

These microscopic organisms form an entire world composed of species, families and varieties whose history, which has barely begun to be written, is already fertile in prospects and findings of the highest importance. The names of these organisms are very numerous and will have to be defined and in part discarded. The word microbe which has the advantage of being shorter and carrying a more general meaning, and of having been approved by my illustrious friend, M. Littrι, the most competent linguist in France, is one we will adopt.